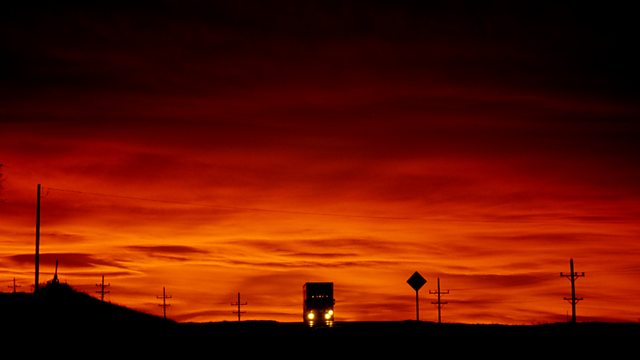 Jonathan Swain
With Jonathan Swain.
1.00am
Busoni, Ferruccio (1866-1924): Concerto for piano and orchestra, with male chorus, Op 39
Peter Donohoe (piano)
Coro dell' Accademia Nazionale di Santa Cecilia (male voices)
Brussels Philharmonic Orchestra
Michel Tabachnik (conductor)
2.11am
Rore, Cipriano de (c.1515-1565): O santo fior felice; O voi che sotto l'amorose insegne (Il quinto libro di madrigali, 1568)
The Consort of Musicke
2.20am
Marenzio, Luca (c.1553/4-1599): Com' e dolce il gioire o vago Tirsi
Cantus Colln
2.23am
Gesualdo, Carlo (c.1561-1613): Ave dulcissima Maria for five voices - sacred motet
Monteverdi Choir
John Eliot Gardiner (conductor)
2.30am
Monteverdi, Claudio (1567-1643) arr. Schutz: Guldene Haare
The Sweelinck Ensemble
2.34am
Scelsi, Giacinto (1905-1988): Pfhat
Coro dell' Accademia Nazionale di Santa Cecilia
Brussels Philharmonic Orchestra
Michel Tabachnik (conductor)
2.43am
Brahms, Johannes (1833-1897): Schicksalslied (Song of destiny) for chorus and orchestra, Op 54
Coro dell' Accademia Nazionale di Santa Cecilia
Brussels Philharmonic Orchestra
Michel Tabachnik (conductor)
3.00am
Schubert, Franz (1797-1828): Piano Sonata in B flat, D960
Leon Fleisher (piano)
3.44am
Hummel, Johann Nepomuk (1778-1837): Quintet in E flat major/minor for piano and strings, Op 87
Tobias Ringborg (violin)
Ingegerd Kierkegaard (viola)
John Ehde (cello)
Hakan Ehren (double bass)
Stefan Lindgren (piano)
4.04am
Bella, Jan Levoslav (1843-1936): Solemn Overture in E flat
Slovak Radio Symphony Orchestra in Bratislava
Robert Stankovsky (conductor)
4.11am
Cambini, Giuseppe Maria (1746-1825): Trio for flute, oboe and bassoon, Op 45, No 1
Vladislav Brunner Jr (flute)
Jozef Hanusovsky (oboe)
Jozef Martinkovic (bassoon)
4.25am
Mattheson, Johann (1681-1764): Sonata in C minor for three recorders or flutes, Op 1, No 4
Vladislav Brunner Sr, Juraj Brunner, Milan Brunner (flutes)
4.31am
Handel, Georg Frideric (1685-1759): In den angenehmen Buschen, HWV 209 - German aria No 8
Helene Plouffe (violin)
Louise Pellerin (oboe)
Dom Andre Laberge (organ)
4.35am
Fesch, Willem de (1687-1761): Concerto grosso in B flat for two violins, strings and continuo, Op 10, No 2
Manfred Kramer, Laura Johnson (violins)
Musica ad Rhenum
4.45am
Diepenbrock, Alphons (1862-1921): L'Invitation au voyage
Christa Pfeiler (mezzo-soprano)
Rudolf Jansen (piano)
4.51am
Humperdinck, Engelbert (1854-1921): Overture (Hansel und Gretel)
Symphony Nova Scotia
Georg Tintner (conductor)
5.00am
Debussy, Claude (1862-1918) orch. Ravel: Tarantelle styrienne
Winnipeg Symphony Orchestra
Kazuhiro Koizumi (conductor)
5.07am
Chopin, Fryderyk (1810-1849): Four Mazurkas
Ashley Wass (piano)
5.17am
Moniuszko, Stanislaw (1819-1872): Mazurka (Halka)
Polish Radio Symphony Orchestra
Szymon Kawalla (conductor)
5.22am
Dowland, John (1563-1626): Pavan (Taffelconsort)
5.27am
Philips, Peter (c.1560-1628): Pavan Dolorosa
Concordia
Mark Levy (director)
5.32am
Byrd, William (c.1540-1623): Pavan and galliard in G for keyboard, MB XXVIII 70 (Quadran)
Aapo Hakkinen (harpsichord)
5.46am
Bach, Johann Sebastian (1685-1750): Sarabande (Suite No 1 in G for cello solo, BWV 1007)
Andreas Brantelid (cello)
5.50am
Pezel, Johann Christoph (1639-1694): Suite of German dances, arr. Romm for brass ensemble
Canadian Brass
5.58am
Grieg, Edvard (1843-1907): Holberg suite, Op 40 - vers. for string orchestra
Stavanger Symphony Orchestra
Eivind Aadland (conductor)
6.21am
Martinu, Bohuslav (1890-1959): Etudes and Polkas - Book 3 for piano
Antonin Kubalek (piano)
6.30am
Strauss, Johann II (1825-1899): Unter Donner und Blitz (Thunder and lightning) - polka, Op 324
6.33am
J Strauss II: Tritsch-Tratsch-Polka, Op 214
BBC Philharmonic
Vassily Sinaisky (conductor)
6.36am
J Strauss II: Four dances
Osterreichischer Rundfunk (ORF) Symphony Orchestra
Peter Guth (conductor).
Last on