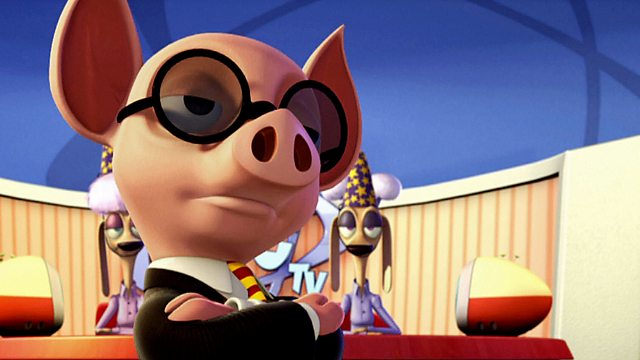 This Episode Has A Title But It's A Secret
A 3D CGI animated comedy series for six- to 11-year-olds with two piggy brothers causing havoc in TV land. Pinky and Perky are a pair of piglets who have just been given their big break in showbiz: their own live children's television show full of crazy stunts, mad games, wild cartoons and top celebrity guests.
Their show is loud, messy, funny and frequently out of control, which makes it very unpopular with the old guard of the TV station. One way or another, they're going to get those pesky pigs off the air!
Pinky knows something Perky doesn't and it's driving him mad! When Perky discovers that Pinky has a secret, he tries everything in his power to uncover the truth, but Pinky's not budging! As Perky gets more and more frustrated, he goes to ever longer lengths to discover what Pinky is hiding, but his attempts are thwarted at every turn. Until he borrows Wilberforce's latest invention, that is.
However, just as Perky seems to be on the verge of discovering Pinky's secret, his plan backfires and Wilberforce's Laser Fantasia goes out of control. By the time he finally works out what's going on, Perky realises that he might have been better off not knowing all along!
Last on