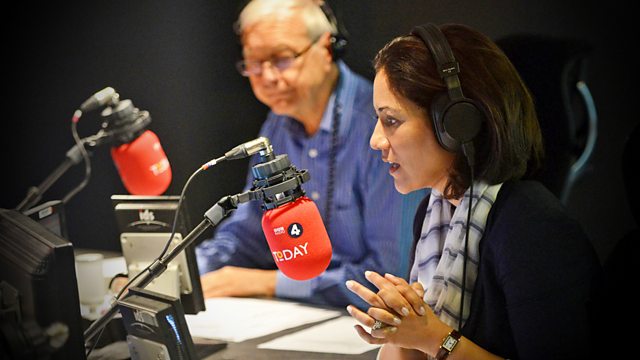 20/03/2009
Presented by John Humphrys and Evan Davis.
Former Labour health secretary Patricia Hewitt explains her reasons for proposing amendments to the law regarding assisted suicides.
Correspondent Andrew Hosken hears from supporters and detractors of the NHS database in England.
Chairman of the Normandy Veteran Association Ed Slater explains the significance of a trip to this year's D Day commemorations in France.
The National Audit Office has released a report that reveals Northern Rock was allowed to lend 800 million pounds in high risk mortgages for six months after it was nationalised. Business editor Robert Peston reports.
Chris Leslie, the director of the NLGN, and Derek Watson, chief executive of the Dental Practitioners Association, discuss the future of dentistry in the UK.
President Barack Obama has appeared on The Tonight Show with Jay Leno. North America Editor Justin Webb reports.
Thought for the day with Sir Jonathan Sacks.
Correspondent Ian Pannell describes the present situation in Afghanistan from Kabul, and Foreign Secretary David Miliband discusses the policy changes that may be needed.
Lesley Close, who accompanied her brother John to the Dignitas clinic in Switzerland, and Liberal Democrat peer Lord Carlile discuss the political, legal and moral implications of an amendment to the Coroner's and Justice Bill.
There has been an upsurge in the popularity of Chinese philosopher Confucius. Correspondent James Reynolds and expert in Professor Joachim Gentz explain the sudden interest.
The Healthcare Commission has released a report on Birmingham Children's Hospital, which reveals a 'catalogue of failings' including delays in treatment and bed shortages. Dr Charlie Ralston, the medical director at the hospital, explains how these problems came about.
Correspondent Rory Maclean examines the UK's anti-terrorism strategy, known as Contest.
Dr Gillian Braunold, the clinical director in the NHS responsible for the NHS database, discusses privacy issues.
Philosopher Slavoj Zizek gives his take on the current economic crisis.
Documents revealing the thoughts of the main British prosecutor at the Nuremberg Nazi war crimes trials, David Maxwell Fyfe, have been opened to the public. Tom Blackmore, Mr Maxwell Fyfe's grandson, and Allen Packwood, from the Churchill Archives Centre, discuss.
Last on