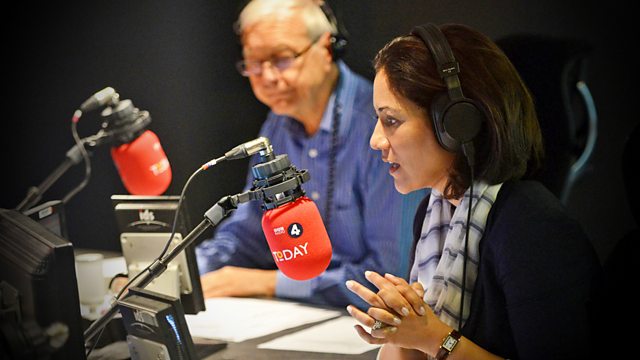 17/03/2009
Presented by James Naughtie and Sarah Montague.
Professor Rick Trainor, president of Universities UK, explains the research which suggests that fees of over 7,000 pounds a year might stop students from going to university.
Jonathan Beale reports on whether Barack Obama can stop managers at the US insurance giant AIG from being paid bonuses.
Bethany Bell reports from St Poelten in Austria on the trial of Josef Fritzl and his daughter's testimony.
Reporter Kim Catcheside talks to two unemployed teenagers from Newcastle about their fears of not getting work after leaving education.
Defence Secretary John Hutton explains why the prime minister is 'engaging' with Iran.
Nick Bryant reports on how some Australians are calling for a complete alcohol ban for Australian Rugby League players.
Billy Hayes, from the Communication Workers' Union, and banker Sir George Cox discuss whether the proposed Post Bank is a viable option.
James Westhead looks at how the first students to be affected by top-up fees have managed and the Higher Education Minister David Lammy discusses whether students should be charged more.
Peter Smyth, chairman of the Metropolitan Police Federation, discusses whether police officers should patrol alone.
Robin Hood: hero or vagabond? Writer Adam Thorpe and medievalist Dr Julian Luxford discuss the mythical figure.
Science campaigner Nick Dusic says science is critical in helping the UK to compete as it emerges from the recession.
Weapons inspector David Kay discusses Iran's right to develop a civil nuclear programme under international supervision.
Technology correspondent Rory Cellan-Jones explains why Louis Vuitton luggage, LVMH, has taken Google to court over its trademarks.
The Football Association has started a campaign to get parents to change their behaviour on the touchline. Writer Jim White and referee Herville Hector discuss pushy parents.
Prof Frederic Bozo and Prof Michael Cox discuss the French president Nicolas Sarkozy's attitude to NATO.
Last on