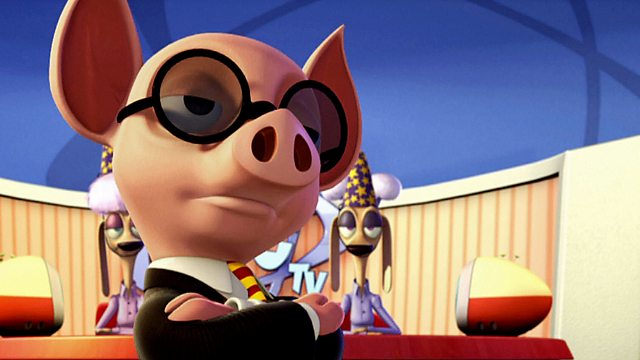 A 3D CGI animated comedy series for six- to 11-year-olds with two piggy brothers causing havoc in TV land.
Pinky and Perky are a pair of piglets given their big break in showbiz: their own live children's television show full of crazy stunts, mad games, wild cartoons and top celebrity guests. Their show is loud, messy, funny and frequently out of control, which makes it unpopular with the old guard of the TV station. One way or another, they're going to get those pesky pigs off the air!
When Wilberforce volunteers as safety officer for the TV station, Pinky and Perky's action-packed Stunt Special Show is under threat. Initially they cooperate with Wilberforce's rules, ditching danger in favour of safer stunts and replacing risky tricks with more reliable routines. However, when new editions of the safety regulations keep appearing (helpfully supplied by Vera and Eric), Wilberforce goes safety crazy and bans practically everything.
Soon Pinky and Perky are stuck with a selection of really boring acts for their show. Can they keep their studio audience from becoming bored too?
Last on