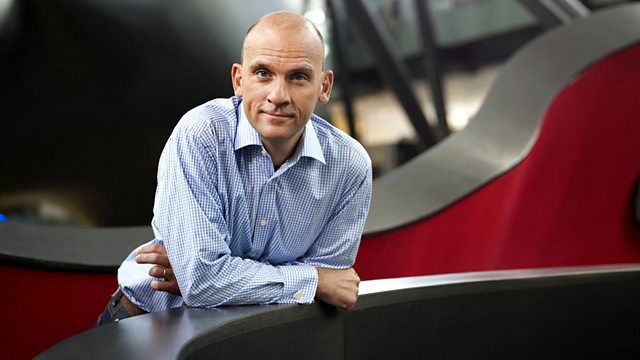 Highlights of the Loop Festival
Jez Nelson presents highlights from a festival held at the Vortex Jazz Club, arranged by London's Loop Collective, considered to be a breeding ground for innovative young musicians in the city.
The festival features the edgy beats and duelling saxes of Outhouse, whose self-titled debut album was well received on its release in 2008. Plus trios from two hotly tipped pianists: Alcyona Mick, who co-leads Blink with saxophonist Robin Fincker, and Jasper Hoiby's Phronesis.
Outhouse and Phronesis recorded at the Loop Collective Festival
Presenter: Jez Nelson
Studio guests: Robin Fincker and Dave Smith of Outhouse
Excerpt from Abraham's New Gift by Phronesis (details below)
Phronesis recorded at the Vortex on February 14, 2009
Line-up:
Jasper Hoiby - double bass
Ivo Neame - piano
Anton Eger - drums
Set list:
Green Delay
Blue Inspiration
Happy Notes
Five Songs, Six Words
Abraham's New Gift
All tunes composed by Jasper Hoiby
Phronesis' new album - Green Delay - is released on the Loop label in May 2009
Phronesis tour dates:
1 May - The Crypt, London
2 May - Chelsea Art's Club, London
6 May - Broomhill Sculpture Park, Devon
7 May - St Austell Brewery, London
8 May - The Electric Palace, Bridgeport
9 May - The Polish Club, Birmingham
13 May - Pizza Express, London
14 May - The Spin Off, Leeds
http://www.myspace.com/phronesismusic
http://www.loopcollective.org/
CD Tracks:
Artist: Henri Texier - Double Bass (Sebastien Texier - alto saxophone, Manu Codjia - guitar, Christophe Marguet - drums)
Track Title: Intuition
Composer: E Codjia, C Marguet, S Texier, H Texier
Album Title: Red Route Quartet - Love Songs Reflections
Label: Label Bleu
Artists: Joachim Kuhn - Steinway Grand Piano, Michael Wollny - Steinway Grand Piano
Track Title: Encore
Composer: Kuhn/Wollny
Album Title: Live at Schloss Elmau
Label: ACT
Artists: Dave Kane - Double Bass, Alex Bonney - Trumpet and Piccolo Trumpet
Track Title: Track 6
Composer: improvised piece
Album Title: 6 Improvised Pieces
Label: Mini-Loop
Outhouse recorded at the Vortex on February 14, 2009
Line up:
Robin Fincker - tenor saxophone
Tom Challenger - tenor saxophone
Dave Smith - drums
Johnny Brierley - double bass
Pierre-Alexandre Tremblay - laptop (track 4 only)
Set list:
Fool (Fincker)
Reverse (Fincker)
Number One (Fincker)
Alignment (Smith)
Zout (Challenger)
Outhouse tour dates:
20 April Pizza Express, Dean Street, London
11 June w/Hilmar Jensson, 7 Arts Centre, Leeds
12 June w/Hilamr Jensson, CBSO Centre, Birmingham
13 June w/Hilmar Jensson, Orange Street music Venue, Canterbury
14 June w/Hilmar Jensson, The Vortex, London
15 June w/Hilmar Jensson, The Oxford, London
http://www.myspace.com/outhouseloop
http://www.loopcollective.org/.
Last on