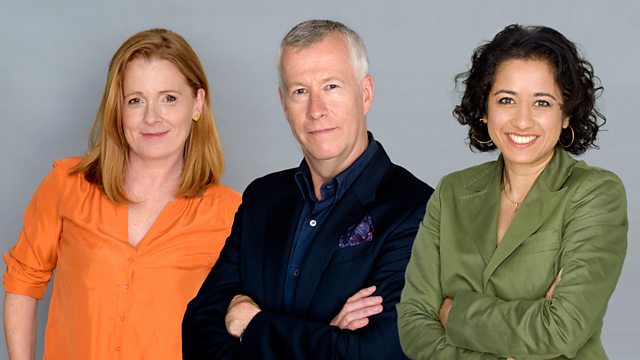 11/03/2009
Listen in pop-out player
Presented by Mark Lawson.
The play Deep Cut concerns the deaths of four trainees from gunshot wounds at Deepcut army barracks in Surrey between 1995 and 2002. Writer Philip Ralph and the father of one of the recruits, Des James, discuss the case and what they hope the play will achieve.
Two new films have just been released featuring canine co-stars: Hollywood dramedy Marley and Me, based on the best-selling memoir by John Grogan, and Wendy and Lucy, a road movie exposing life on the American fringe. Critic Larushka Ivan-Zadeh judges their pedigree and performance.
Marcus Brigstocke, Dave Gorman and director of digital content for Guardian News and Media Emily Bell discuss what it takes for a show to make the transfer from radio to television. Brigstocke's I've Never Seen Star Wars and Gorman's Genius are both crossing over from Radio 4 to BBC 4 and 2 respectively
To mark the tercentenary year of Samuel Johnson's birth, his biographer Peter Martin has been re-enacting the hundred-mile walk that Johnson and his friend David Garrick took from Lichfield to London in 1737. Martin updates Mark about what he and his modern day travelling companion 'Garrick' have encountered on the way.
Last on