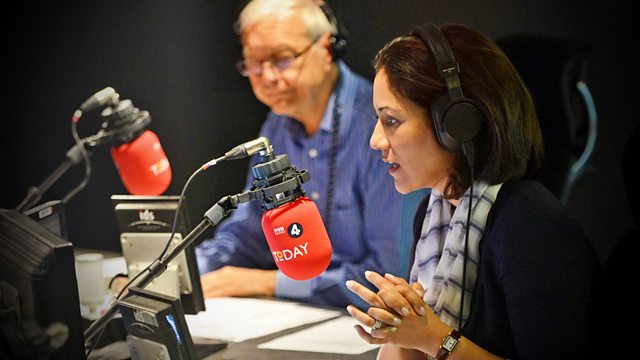 11/03/2009
Presented by Edward Stourton and James Naughtie.
Abdul Malik, a member of Luton town's Race Advisory Forum, says protests against soldiers returning from Iraq are justified.
John Slaughter, director of policy at the Home Builders Federation, discusses the lack of lending available for construction companies.
Andrew Hosken visits a school in Milton Keynes to investigate the claims that pupils have been the victims of excessive restraint by teachers and even locked in their classrooms.
Correspondent Chris Buckler reports from Craigavon on how people have been reacting to recent attacks by Republican dissidents on police in Northern Ireland. Dr Martyn Frampton discusses the likelihood of further disturbances.
Former Woolworths manager Claire Robertson discusses why she has decided to re-open her store - under the new name of Wellworths.
Thought for the day with Brian Draper, associate lecturer at the London Institute for Contemporary Christianity.
Kim Bromley-Derry of Newham Council and Professor Ray Jones discuss the state of social care.
Environment analyst Roger Harrabin and Dr Vicky Pope, of the Hadley Centre at the Met Office, discuss the fears for ocean ecosystems.
Labour MP Chris Mullin and author Giles Brandreth discuss the best political diaries.
Antonio Maria Costa, of the UN, and Mike Reid, of the Economist, discuss how the UN deals with the drugs trade.
Conservative education spokesman Michael Gove and historian Tristram Hunt discuss if students have a joined up idea of British history.
Margaret Moran, Labour MP for Luton South, discusses the Anti-war protests in Bedfordshire against a march by soldiers returning from Iraq.
Should the United States talk to the Taliban? Gordon Corera reports from Kabul on the possibility of President Obama entering diplomatic negotiations as the US undertakes its major policy review.
Sheila Brown, of Ofsted, discusses accusations that pupils in a Milton Keynes school were bruised when restrained by staff and sometimes locked into classrooms.
Last on