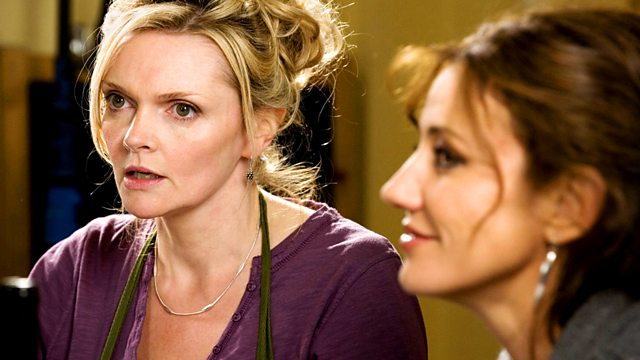 Trudi is still concerned about Richard's financial secrets after her discovery that he is paying out 3,000 pounds a month. When she confronts him, Richard confesses that it is going to a client to whom he is in debt. But further discoveries rasie Trudi's suspicions again, and she becomes detemined to find out the truth.
Katie is confused following her kiss with Jack. She decides to throw herself into her relationship with Dan, and when Jack tells her he wants to kiss her again, she quickly knocks him back. But, unsure if she can control her feelings, Katie questions whether she can continue to work at the hospital with the contstant temptation.
When Jessica's business partner Simon reveals it was her husband, Mark, who saved Autograph Events, it takes a lot of persuasion from the girls to make her see it was a romantic gesture. When Jessica pays Mark a visit at work, she sees something that gives her an unfamiliar feeling of jealousy. Could it be this modern girl is not as modern as she thought?
Siobhan is hurt by Hari's lack of forgiveness over her previous affair with Dominic, and this drives her straight back into Tom's bed. When Siobhan tells Hari she thinks they could have a sexless marriage, Hari cannot believe what he is hearing. It forces him to take a step in the right direction in getting their marriage back on track, but is it already too late?
Last on
Credits
| Role | Contributor |
| --- | --- |
| Katie | Sarah Parish |
| Trudi | Sharon Small |
| Siobhan | Orla Brady |
| Jessica | Shelley Conn |
| Hari | Raza Jaffrey |
| Dominic | Adam Rayner |
| Richard | Patrick Baladi |
| Producer | Rhonda Smith |
| Simon | Adam Astill |
| Mark | Oliver Milburn |
| Dan | Mark Umbers |
| Lucas | Sean Francis |
| Tom | Thomas Lockyer |
| Jack | Steven Brand |
| Megan | Natasha Little |
| Carrie | Preeya Kalidas |
| Elaine Thompson | Katy Carmichael |
| Vicki Kendall | Katie Jones |
| Natalie | Alison Rose |
| Cathy | Joanna Wright |
| Gina | Flossie Ure |
| Amy | Lizzie Watkins |
| Miss Owen | Serena Gordon |
| Julia | Jan Francis |
| Gordon | Vincent Brimble |
| Doorman | Stephen Greif |
| Director | Francesca Joseph |
| Driver | Russell Boulter |
| Ben | Adam Ewan |
| Handsome Mixologist | Stephen Hagan |