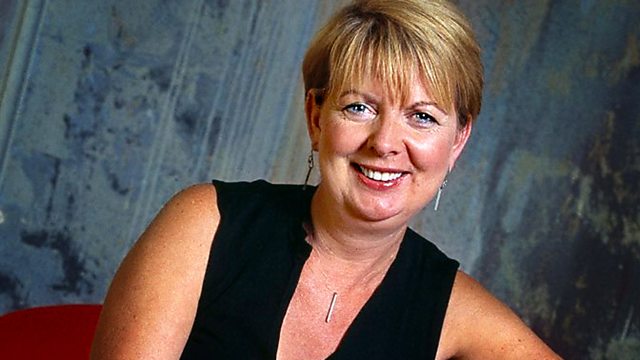 Fiona Talkington
Fiona Talkington's varied musical selection includes Bill Bruford, the founding father of the Quebec electroacoustic movement Francis Dhomont, traditional pieces from the Auvergne and lullabies from around the world.
Track List:
23:15
Ron Copper: Hard Times of Old England
Album: Come Write Me Down – Early Recordings of the Copper Family of Rottingdean
Topic TSCD534
23:18
Monteverdi: Zefiro Torna
Performed By L'Aprpeggiata conducted by Christina Pluhar; Nuria Rial (Soprano); Philippe Jaroussky (Countertenor)
Album: Teatro d'amore
Virgin Classics 509992 3614024
(Segue)
23:25
Bill Bruford with Ralph Towner & Eddi Gomez: Thistledown
Album: The Summerfold Collection 1987-2008
Summerfold Records BBSF022CD
23:30
Les Bryauds: Leve-toi et Danse
Album: Musique de Basse Auvergne
Ocora C559083
(Segue)
23:33
Canteloube: Jou l'pount d'o Mirabel
Performed By Philharmonia Orchestra Conducted by Sir John Pritchard; Patricia Rozario (Soprano)
Album: Songs of The Auvergne
IMP Classics 30367 00752
23:39
Traditional Occitan Songs: Away Away & Roll On The Day
Performed By Emanuel Pariselle, Didier Oliver, Tony Sheehan, Richard Burgess, Frode Nyvold.
Recorded at Rauland Academy, Norway
23:45
Unni Boksasp: Sulla Lulla (Lullaby)
Album: Songar Frå Havdal
Ta:lik TA42CD
23:48
Francis Dhomont: Points de Fuite
Album: Mouvances-Métaphores
DIGITALes IMED-9107-CD
(Segue)
00:01
Laurence Revey: Prèïèré
Album: The Rough Guide to Music of The Alps
World Music Network RGNET 1103CD
with Kettle Song, lighting up the gas before putting the water on to boil.
00:06
Max de Wardener: Kettle Song
Album: Teaism – Music Inspired By The Art and Culture of Tea
Static Caravan VAN154
(Segue)
00:08
Lord Jim: Teapot Waltz
Album: Teaism – Music Inspired By The Art and Culture of Tea
Static Caravan VAN154
(Segue)
00:12
Oblong: Four PM
Album: Teaism – Music Inspired By The Art and Culture of Tea
Static Caravan VAN154
00:16
Monteverdi: Oblivion Soave
Performed By L'Aprpeggiata conducted by Christina Pluhar; Philippe Jaroussky (Countertenor)
Album: Teatro d'amore
Virgin Classics 509992 3614024
(Segue)
00:19
David Earl: Lento Tranquillo - Lotuses
Album: Piano Suite No. 3 Mandalas
Divine Art dda25060
00:25
Traditional: Billy O'Shea
Performed By Emanuel Pariselle, Didier Oliver, Tony Sheehan, Richard Burgess, Frode Nyvold.
Recorded at Rauland Academy, Norway
00:28
Bill Bruford: Pilgrim's Way
Album: The Summerfold Collection 1987-2008
Summerfold Records BBSF022CD
00:35
Trygve Madsen: Valse from Partita
Performed By Jon Faukstad (accordion)
Album: Accordion Chamber
Jps Records Jps 302
(Segue)
00:39
Eric Whitacre: Sleep
Performed By Uranienborg Vokalensemble
Album: Våkenetter
Norsk Kulturråd - Arts Council Norway
00:43
Ross Bolleter: Come Night
Album: Secret Sandhills and Satellites – pieces for ruined pianos and pianos on the edge of ruin
Emanem 4128
(Segue)
23:45
Robert Curgenven: Memory of Home (soundscape)
Album: Alice Springs, Central Australia
Recorded Fields RF001
(Segue)
23:47
Kevin Henderson, Jenna Reid, Kevin Mackenzie: The Bear Dance
Album: Da Hömin
Own Label HRMCD001
23:51
Montserrt Figueras: Berceuse
Album: Ninna Nanna, Lullabies 1500-2002
Alia Vox AV9826
(Segue)
23:54
Hauschka: Hauberg
Album: Snowflakes and Car Wrecks
Fat Cat Records CDFAT075
Last on