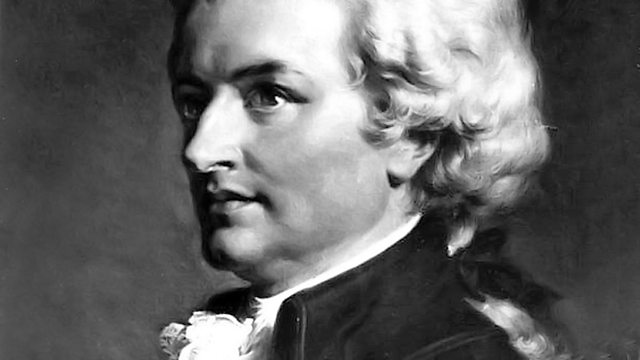 Donald Macleod explores Mozart's Vienna years, focusing on the importance to the composer of Johann Leutgeb, an old colleague of Mozart's from Salzburg days. Leutgeb was a talented horn player and, somewhat bizarrely, a cheese-shop owner, for whom Mozart wrote several works, including the famous Concerto in E flat, K495.
The programme also looks at the end of the Viennese public's love affair with Mozart's music, as the fun-loving Viennese struggled to keep pace with the intensity of works like the String Quintet in G minor, K516.
5 Contredanses, K609 (No 1 in C; No 3 in D)
Wiener Mozart Ensemble
Willi Boskovsky (conductor)
Philips 464 780-2, CD 13, Trs 30 and 32
Horn Concerto in E flat, K495 (1 Allegro maestoso; 2 Romance: Andante cantabile ; 3 Rondo: Allegro vivace)
Bournemouth Sinfonietta
Michael Thompson (horn/director)
Naxos 8.553592, Trs 7-9
String Quintet in G minor, K516 (1 Allegro; 2 Menuetto - Allegretto; 3 Adagio ma non troppo; 4 Adagio - Allegro)
Grumiaux Trio:
Arthur Grumiaux, Arpad Gerecz (violin)
Georges Janzer, Max Lesueur (viola)
Eva Czako (cello)
Philips 470 950-2, CD 2, Trs 5-8.
Last on