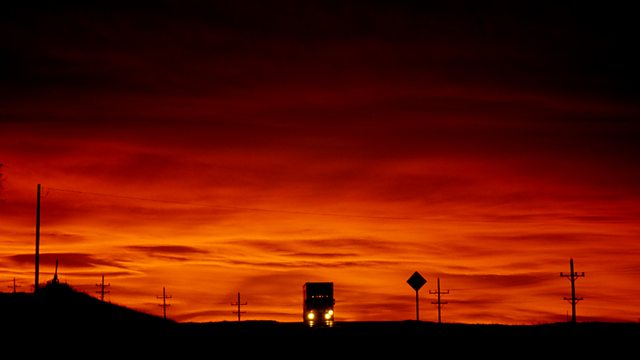 05/03/2009
With John Shea.
1.00am
Delius, Frederick (1862-1934): A song of summer for orchestra, RT VI 25
1.12am
Ravel, Maurice (1875-1937): Le tombeau de Couperin for orchestra
1.30am
Berlioz, Hector (1803-1869): Romeo et Juliet - symphonie dramatique, Op 17
BBC Symphony Orchestra
Esa-Pekka Salonen (conductor)
2.13am
Stravinsky, Igor (1882-1971): Three Songs from William Shakespeare
Anna Dennis (mezzo-soprano)
Britten Sinfonia
Alexander Shelley (conductor)
2.21am
Shearing, George (b.1919): Music to Hear (Five Shakespeare songs)
Vancouver Chamber Choir
Peter Berring (piano)
David Brown (double bass)
Jon Washburn (director)
2.34am
Farnaby, Giles (c.1563-1640): The King's Hunt - variations for keyboard
Pierre Hantai (harpsichord)
2.37am
Berlioz, Hector (1803-1869): La mort de Cleopatre
Annett Andriesen (alto)
Netherlands Radio Symphony Orchestra
David Robertson (conductor)
3.00am
Strauss, Johann II (1825-1899): Spanischer Marsch, Op 433
ORF Symphony Orchestra
Peter Guth (conductor)
3.06am
Schubert, Franz (1797-1828): Symphony No 3 in D, D200
Bergen Philharmonic Orchestra
Dmitri Liss (conductor)
3.30am
Mahler, Gustav (1860-1911): Ich ging mit lust durch einen grunen Wald
Arleen Auger (soprano)
Irwin Gage (piano)
3.35am
Schoenberg, Arnold (1874-1951): Four Lieder, Op 2
Arleen Auger (soprano)
Irwin Gage (piano)
3.49am
Berg, Alban (1885-1935): Sonata for piano, Op 1 (arr. for orchestra)
Royal Concertgebouw Orchestra
Riccardo Chailly (conductor)
4.02am
Lithander, Carl Ludvig (1773-1843): Piano Sonata in C, Op 8 No 1 (Sonate facile)
Juhani Lagerspetz (piano)
4.14am
Bach, Johann Sebastian (1685-1750): Aria variata alla maniera italiana for keyboard, BWV989
Wolfgang Gluxam (harpsichord)
4.30am
Geminiani, Francesco (1687-1762): Concerto No 1 in D, Op 7
Academy of Ancient Music
Andrew Manze (director/violin)
4.38am
Durante, Francesco (1684-1755): Concerto per quartetto No 5 in A for strings
Concerto Koln
4.46am
Piccinini, Alessandro (1566-c.1638): Toccata/Chiaccona
Stephen Stubbs (chitarrone)
4.52am
Verdi, Giuseppe (1813-1901): Overture (La forza del destino)
Orchestre du Conservatoire de Musique du Quebec
Raffi Armenian (conductor)
5.00am
Tchaikovsky, Pyotr Il'yich (1840-1893): Waltz (Sleeping Beauty)
Edmonton Symphony Orchestra
Uri Mayer (conductor)
5.06am
Kuhlau, Friedrich (1786-1832): The Magic Harp, Op 27
Danish Radio Concert Orchestra
Roman Zeilinger (conductor)
5.18am
Clerambault, Louis-Nicolas (1676-1749): Pirame et Tisbe - cantata
Gilles Ragon (tenor)
Amalia
5.36am
Purcell, Henry (1659-1695): Hark how all things (The Fairy Queen)
Nancy Argenta (soprano)
CBC Vancouver Orchestra
Monica Huggett (conductor)
5.39am
Mocoroa, Eduardo (1867-1954): Dance of the Witches
Polyphonia
Ivelin Dimitrov (conductor)
5.42am
Dukas, Paul (1865-1935): The Sorcerer's Apprentice
Hungarian Radio Orchestra
Adam Medveczky (conductor)
5.53am
Kuula, Toivo (1883-1918): Three Fairy-Tale Pictures for piano, Op 19
Juhani Lagerspetz (piano)
6.09am
Palmgren, Selim (1878-1951): Cinderella Suite
Finnish Radio Symphony Orchestra
George de Godzinsky (conductor)
6.31am
Schumann, Robert (1810-1856): Marchenerzahlungen, Op 132
Robert Schumann Ensemble
6.46am
Wagner, Richard (1813-1883): Dawn music; Siegfried's Rhine journey (Gotterdammerung)
Royal Concertgebouw Orchestra
Riccardo Chailly (conductor).
Last on