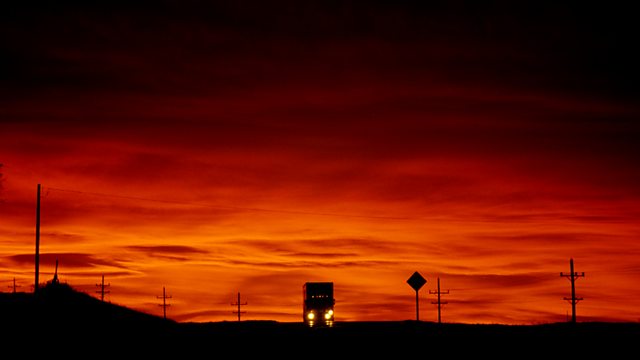 02/03/2009
With John Shea.
1.00am
Svendsen, Johan (1840-1911): Romeo and Juliet - fantasy
Stavanger Symphony Orchestra
John Storgards (conductor)
1.15am
Tchaikovsky, Pyotr Il'yich (1840-1893): Concerto No 1 in B flat minor for piano and orchestra, Op 23
Stephen Hough (piano)
Stavanger Symphony Orchestra
John Storgards (conductor)
1.48am
Nielsen, Carl (1865-1931): Symphony No 5, Op 50
Stavanger Symphony Orchestra
John Storgards (conductor)
2.24am
Nielsen, Carl (1865-1931): Chaconne for piano, Op 32
Anders Kilstrom (piano)
2.33am
Schumann, Robert (1810-1856): Piano Sonata No 3 in F minor, Op 14 (Concert sans orchestre)
Aldo Ciccolini (piano)
3.00am
Benoit, Peter (1834-1901): Magnificat for womens' voices and organ
The Flemish Radio Choir
Joris Verdin (organ)
Jan Busschaert (double bass)
Vic Nees (conductor)
3.06am
Hoof, Jef Van (1886-1959): Symphony No 1 in A
Belgian Radio and Television Philharmonic Orchestra
Fernand Terby (conductor)
3.39am
Maldere, Pierre van (1729-1768): Sinfonia in A (viola obligata)
The Academy of Ancient Music
Filip Bral (conductor)
3.52am
Brumel, Antoine (c.1460-c.1512): Agnus Dei - et ecce terrae motus
Huelgas Ensemble
Paul van Nevel (director)
3.58am
Obrecht, Jacob (c.1457-1505): Omnes spiritus laudet - offertory motet for five voices
Daedalus
4.05am
Bach, Johann Sebastian (1685-1750): Singet dem Herr nein neues Lied - motet, BWV 225
Tafelmusik Chamber Choir
Tafelmusik Baroque Orchestra
Ivars Taurins (conductor)
4.18am
Albinoni, Tomaso (1671-c.1750): Concerto a 5 in D minor for oboe and strings, Op 9, No 2
Frank de Bruine (oboe)
The King's Consort
Robert King (director)
4.31am
Rossini, Gioachino (1792-1868): Sonata No 1 in G for strings
Sofia Soloists
Plamen Djourov (conductor)
4.45am
Boieldieu, Francois-Adrien (1775-1834): Aria: Viens, gentile dame (La Dame blanche)
Mark DuBois (tenor)
Kitchener Waterloo Symphony Orchestra
Raffi Armenian (conductor)
4.52am
Dukas, Paul (1865-1935): Villanelle for horn and orchestra
Esa Tukia (horn)
Finnish Radio Symphony Orchestra
Michael Adelson (conductor)
5.00am
Auber, Daniel-Francois Esprit (1782-1871): Overture (Fra Diavolo)
Slovak Radio Symphony Orchestra
Ondrej Lenard (conductor)
5.10am
Bizet, Georges (1838-1875): L'Arlesienne Suite No 2 - compiled Ernest Guiraud
Slovenian Radio and Television Symphony Orchestra
Marko Munih (conductor)
5.24am
Sarasate, Pablo de (1844-1908): Concert Fantasy on Carmen for violin and orchestra, Op 25
Julia Fischer (violin)
Bergen Philharmonic Orchestra
Christopher Warren-Green (conductor)
5.38am
Brahms, Johannes (1833-1897): Rhapsody for piano in B minor, Op 79
Steven Osborne (piano)
5.47am
Chabrier, Emmanuel (1841-1894): Espana - rhapsody
Toronto Symphony Orchestra
Andrew Davis (conductor)
5.54am
Granados, Enrique (1867-1916): 4 Tonadillas (Colleccion de tonadillas escritas en estilo antiguo)
Isabel Bayrakdarian (soprano)
James Parker (piano)
6.03am
Yuste, Miguel (1870-1947): Estudio melodico for clarinet and piano
Cristo Barrios (clarinet)
Lila Gailing (piano)
6.11am
Crusell, Bernhard Henrik (1775-1838): Concertino in B flat for bassoon and orchestra
Juhani Tapaninen (bassoon)
Finnish Radio Symphony Orchestra
Jukka-Pekka Saraste (conductor)
6.30am
Trad. Swedish arr. Wikander, David (1884-1955): Four songs
Swedish Radio Choir
Eric Ericson (conductor)
6.36am
Berwald, Franz (1796-1868): Septet in B flat
Niklas Andersson (clarinet)
Henrik Blixt (bassoon)
Hans Larsson (horn)
Jannica Gustafsson (violin)
Hakan Olsson (viola)
Jan-Erik Gustafsson (cello)
Maria Johansson (double bass).
Last on