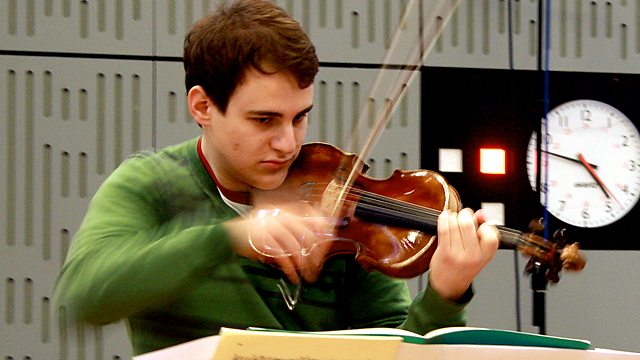 02/03/2009
Presented by Sean Rafferty.
Violinist Jack Liebeck, having just been signed to a leading record label, performs live in the studio with pianist Katrya Apekisheva ahead of a recital in Edinburgh.
Students from the Guildhall School of Music and Drama in London are tackling Aulis Sallinen's opera The King Goes Forth to France. Cast members perform extracts and the conductor Clive Timms explains this unique Finnish take on a fictitious English history.
17:03
LIVE
RACHMANINOV
Danse hongroise, from Morceaux de salon, op.6, no.2
Jack Liebeck (piano)
Katya Apekisheva (piano)
4'36
17:08
MASSENET
Scene Finale: Macbeth, from 3rd Orchestral Suite
Orchestre National de l'opera de Monte Carlo
John Eliot Gardiner (conductor)
ERATO 2292458582
T.3
8'24
17:17
LIVE
BRAHMS
Adagio from Sonata No.3 in D minor, op.108
Jack Liebeck (violin)
Katya Apekisheva (piano)
4'40
17:28
LIVE
STRAVINSKY
Danses Suisses from Divertimento
Jack Liebeck (violin)
Katrya Apekisheva (piano)
4'45
17:37
DVORAK
Finale from Violin Concerto in A minor, op.53
Jack Liebeck (violin)
Royal Scottish National Orchestra
Garry Walker (conductor)
10'32
17:49
CHAUSSON
Le colibri from 7 songs, op.2
Philippe Jaroussky (countertenor)
Jérôme Ducros (piano)
VIRGIN CLASSICS 2166212
T.5
2'54
17:52
BYRD
Browning (The Leaves be Green)
Capriccio Stravagante
Astree E8611
T.10
3'48
17:56
TCHAIKOVSKY
To bilo ranneyu vesnoy (It was in early spring) op38, no.2
Joan Rodgers (soprano)
Roger Vignoles (piano)
Helios CDH55331
T.4
2'01
18:03
WEBER
Der Beherrscher der Geister (Ruler of the Spirits)
Berliner Philharmoniker
Herbert von Karajan (conductor)
DEUTSCHE GRAMMOPHON 4190702
T.6
5'02
18:09
BEETHOVEN (arr. Isserlis)
Andante con Variazioni
Steven Isserlis (cello)
Maggie Cole (harpsichord)
RCA 09026689282
T.1
8'51
18:19
SALLINEN
The King Goes Forth to France, Act I, scene 2 [The Prince and Prime Minister discussing war]
Derek Welton (Prince)
Jonathan Sells (Prime Minister)
Wencheng Qin (repetiteur)
18:31
SALLINEN
The King Goes Forth to France, Act II, scene 8 [The English Archer]
Andrew Finden (Archer)
Eunjung Lee (repetiteur)
4'57
18:40
SALLINEN
The King Goes Forth to France, Act III, Scene 11 [The Nice Caroline]
Rebecca van der Berg (Caroline)
Eunjung Lee (repetiteur)
3'04
18:45
TCHAIKOVSKY
Humoresque, op.10, no.2
Bournemouth Symphony Orchestra
Jose Serebrier (conductor)
NAXOS 8.557645
T.15
2'11
18:49
CHOPIN
Scherzo no.4 in E major, op.54
Maurizio Pollini (piano)
DEUTSCHE GRAMMOPHON 4316232
T.4
10'29
Last on