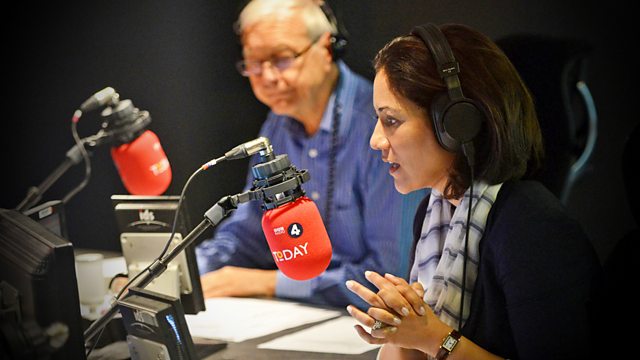 04/03/2009
Presented by John Humphrys and Edward Stourton.
ITV chairman Michael Grade discusses the broadcaster's cost-cutting measures, including 600 job cuts.
Middle East reporter Katya Adler considers if Jewish settlements in the West Bank are creating further obstacles to a long-lasting peace.
Surgeon Lyndon Da Cruz discusses the international trials of revolutionary eye surgery likened to the creation of a 'bionic eye'.
Sudanese President Omar al-Bashir is expected to be indicted by the International Criminal Court (ICC) over the conflict in Darfur. Reporter Mike Thomson talks to a former government soldier who has come forward with what could be important evidence about the president's responsibility for the violence.
Lawyer Andrew Cayley says there is little chance of Sudanese President Omar al-Bashir facing trial over the conflict in Darfur.
Mark Easton explains the ongoing feud between the government and the Office of National Statistics.
Thought for the day with John Bell of the Iona Community.
MP John Grogan discusses the alarming rate at which pubs are closing across the UK.
Political editor Nick Robinson assesses if Gordon Brown is showing 'humility' about the economic turmoil.
Coffee chain Starbucks has announced it is going to start selling instant coffee. Author Mark Pendergrast and Dr Tom Stafford discuss if this move has a cultural as well as commercial significance.
Immigration minister Phil Woolas has accused the ONS of having a 'naive or, at worst, sinister' attitude to statistics about immigration. He explains why the impartiality of the ONS is important.
Reporter Mike Thomson interviews former US Ambassador to Israel Martin Indyk; and former Israeli ambassador to the US Zalman Shoval discusses what Hillary Clinton will try to achieve during her visit to Israel and the West Bank as US secretary of state.
Andrew Gowers, a member of the Digital Britain Report Steering Board, and TV critic Ian Hyland discuss what the future holds for public service broadcasting.
Gordon Brown will become the fifth prime minister to address the Joint Houses of Congress. Former ambassador to Washington Sir David Manning remembers the previous leaders to face the body.
Last on