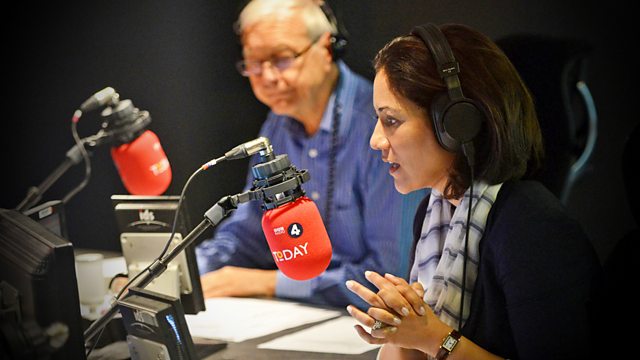 03/03/2009
Presented by John Humphrys and Sarah Montague.
Unidentified gunmen fired on a convoy of Sri Lankan and Pakistani cricketers. Journalist Graham Usher describes the scene of the attack in Pakistan and Anbarasan Ethirajan reports on the reaction from Sri Lanka.
Social worker Joanna Nicolas discusses a campaign to persuade social workers to return to the profession.
Roger Neill of Historic Masters discusses the significance of recordings made in the early 1900s by Dame Nellie Melba.
Former England cricketer Dominic Cork says six gunmen are responsible for the shooting and injuring of five Sri Lankan cricketers.
Political editor Nick Robinson reports on the first meeting between Barack Obama and Gordon Brown.
Author and screenwriter David Nicholls discusses the disqualification of the winning team of University Challenge, Corpus Chrsti from Oxford University.
Thought for the day with the Rev Dr Giles Fraser, Vicar of Putney.
Anne West of the LSE discusses the secondary school admissions system.
John McFall, chairman of the Treasury Select Committee, says parliament should not interfere with pensions.
Sports editor Mihir Bose analyses the repercussions of the Lahore attack for international cricket and Dr Farzana Shaikh, of Chatham House, discusses the political instability in Pakistan.
Reporter Sanchia Berg looks over the MI5 file of Lee Miller, the renowned war photographer.
Richard Kemp of the Local Government Association and Helga Pile of Unison discuss the problems of recruiting social workers who work with children.
Crime reporter Ben Ando examines the crackdown on pirate radio stations in the UK.
Tom Standage of the Economist discusses why mobile phones have become the communication technology of choice, particularly in poor countries.
The government is launching a Stop Loan Sharks hotline and website. Heather Keates, head of Community Money Advice, discusses the initiative.
Reporter Julian O'Halloran considers claims that the careers of teachers are being blighted or destroyed as they struggle to keep order in schools.
Author Samuel D Kassow discusses the story of how Jewish people led their lives in the Warsaw Ghetto under Nazi rule.
Last on
So you think you know the Today programme?