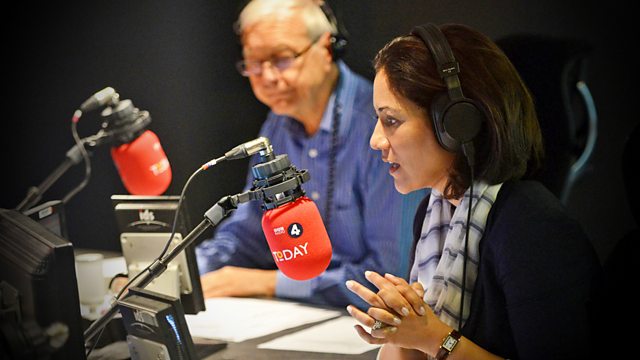 28/02/2009
Presented by Evan Davis and Edward Stourton.
Gordon Brown is set to renew his appeal for Sir Fred Goodwin to hand back part of his 16 million pound pension. Richard Scott reports.
Tim Iredale reports on government plans to part privatise Royal Mail.
Correspondent Caroline Wyatt reports on how effective UK forces have been in helping the US in Afghanistan.
Yesterday in Parliament with Mark D'Arcy.
Marjorie Wallace of Sane and psychiatrist Dr John Goldin discuss why the UK has the highest self-harm figures in Europe.
Mark Dummett reports on the discovery of a second mass grave in Bangladesh.
Correspondent Roland Buerk considers why Japan is suffering so severely because of the economic slowdown.
Thought for the day with Canon David Winter.
Lance Corporal Johnson Beharry discusses his concern for the way in which ex-servicemen and women are treated by the NHS.
Steve Bundred of the Audit Commission discusses if the government has made enough preparation for cuts in public expenditure.
Phil Mackie reports on fears that abandoned high streets could become hotspots for anti-social behaviour.
Screenwriter Lee Hall and columnist Matthew Parris remember the beginning of the miners' strike 25 years ago.
General Sir Richard Dannatt, the head of the British Army, discusses if rumours that the US is unhappy with the UK's military performance in the country are true.
Conservative peer and corporate troubleshooter Lord James discusses another extraordinary week for the financial sector.
Laura Trevelyan reports on estimates that the US economy is shrinking by 6.2 percent.
Reporter Andrew Fletcher interviews Dan Stephens of the Merseyside Fire and Rescue Services, about the contingencies that the services have to deal with terrorist attacks.
Authors Michael Brooks and Mark Vernon discuss new research into whether freewill really exists.
Last on