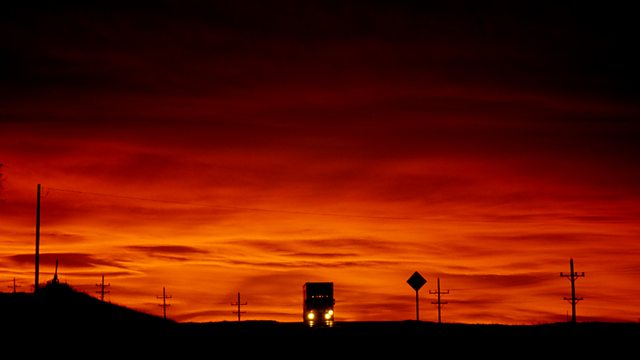 25/02/2009
With John Shea.
1.00am
Mozart, Wolfgang Amadeus (1756-1791): Piano Sonata in B flat, K570; Piano Sonata in A minor, K310; Fantasia in C minor for piano, K475; Piano Sonata in C minor, K457; Piano Sonata in B flat, K333
2.22am
Chopin, Fryderyk (1810-1849): Mazurka in A minor for piano, Op 68, No 2; Waltz in A flat for piano, Op 34, No 1
Elisso Virsaladze (piano)
2.31am
Shostakovich, Dmitry (1906-1975): Trio No 2 in E minor for piano and strings, Op 67
Arve Tellefsen (violin)
Truls Mork (cello)
Havard Gimse (piano)
3.00am
Valente, Antonio (fl.1565-80): Gallarda Napolitana
Hesperion XX
Jordi Savall (director)
3.03am
Auletta, Domenico (1723-1753): Concerto in C for harpsichord and strings
Enrico Baiano (harpsichord)
Cappella della Pieta de' Turchini
Antonio Florio (conductor)
3.22am
Walton, William (1902-1983): Sonata for string orchestra - arr. from String Quartet in A minor
Manitoba Chamber Orchestra
Roy Goodman (conductor)
3.48am
Ortiz, Diego (c.1510-c.1570)/Sandrin, Pierre (c.1490-c.1561): La Spagna; Doulce Memoire; Recercada segonda sobre doulce memoire
Trio Montparnasse
3.55am
Gesualdo, Carlo (c.1561-1613): Ave, regina coelorum for 5 voices
Banchieri Singers
Denes Szabo (conductor)
3.59am
Macque, Giovanni de (c.1550-1614): Bacciami vita mia
Maite Arruabarrena (soprano)
Mira Valenta (alto)
Josep Benet, Marius Van Altena (tenor)
Anneke Pols, Richte Van Der Meer (viols)
Konrad Junghanel (lute/director)
4.01am
Faggioli, Michelangelo (1666-1733): Marte, ammore, guerra e pace (La cilla)
Pino de Vittorio (tenor)
Cappella della Pieta De' Turchini
Antonio Florio (director)
4.10am
Scarlatti, Alessandro (1660-1725): Toccata in F; Fuga del terzo tono in A minor
Rinaldo Alessandrini (harpsichord)
4.19am
Jommelli, Niccolo (1714-1774): Sonata in D
Camerata Tallinn:
Jaan Oun (flute)
Mati Karmas (violin)
Heiki Matlik (guitar)
4.29am
Pergolesi, Giovanni Battista (1710-1736): Concerto in B flat for violin, strings and continuo
Andras Keller (violin)
Concerto Koln
4.42am
Stravinsky, Igor (1882-1971): Suite italienne
Alena Baeva (violin)
Giuzai Karieva (piano)
5.00am
Rachmaninov, Sergey (1873-1943) arr. Alan Arnold: Vocalise, Op 34, No 14
Gyozo Mate (viola)
Balazs Szokolay (piano)
5.06am
Britten, Benjamin (1913-1976): Lachrymae (reflections on a song of Dowland)
Rivka Golani (viola)
Toronto Symphony Orchestra
Andrew Davis (conductor)
5.21am
Dowland, John (1563-1626): Fantasie arr. Duarte/Galbraith for guitar; Mr Dowland's midnight
Manuel Calderon (guitar)
5.28am
Goldmark, Karoly (1830-1915): The Queen of Sheba (Prelude to Act 2)
Calgary Philharmonic Orchestra
Mario Bernardi (conductor)
5.36am
Kodaly, Zoltan (1882-1967): Mountain nights - 5 songs without words for female chorus (Nos 1-4)
La Gioia
5.50am
Liszt, Franz (1811-1886): Les Preludes - symphonic poem after Lamartine, S97
Orchestre National de France
Riccardo Muti (conductor)
6.08am
Poulenc, Francis (1899-1963): Litanies a la vierge noire arr. for female/children's voices, string orchestra and timpani
Maitrise de Radio France
Orchestre National de France
George Pretre (conductor)
6.18am
Milhaud, Darius (1892-1974): Suite for clarinet, violin and piano, Op 157b (Le voyageur sans bagages)
James Campbell (clarinet)
Moshe Hammer (violin)
Andre Laplante (piano)
6.28am
Mussorgsky, Modest (1839-1881): Overture (Khovanschina)
Slovenian Radio and Television Symphony Orchestra
Samo Hubad (conductor)
6.33am
Mussorgsky: The Seminarist for voice and piano
Petteri Salomaa (baritone)
Ilmo Ranta (piano)
6.38am
Prokofiev, Sergey (1891-1953): Scythian Suite (Ala i Lolly, Op 20)
Rotterdam Philharmonic Orchestra
Valery Gergiev (conductor).
Last on