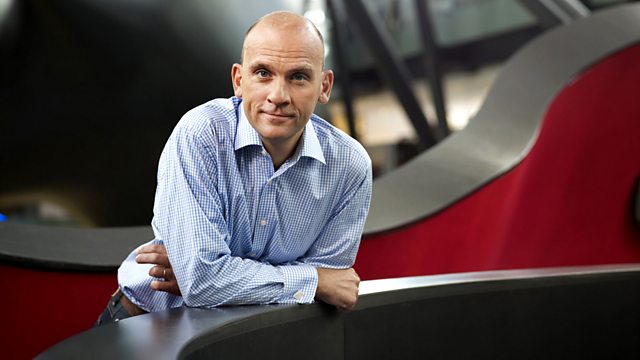 Martin Speake Session Featuring Bobo Stenson
Jez Nelson presents an exclusive studio session by UK saxophonist Martin Speake, with influential Swedish pianist Bobo Stenson, Steve Watts on double bass and Jeff Williams on drums. The quartet play new compositions based on Speake's critically-praised ECM album Change of Heart, in a lyrical set that features free improvisation as well as a strong sense of melody.
Contains some strong language.
Playlist:
CD track:
Artist: Art Ensemble of Chicago (Roscoe Mitchell - saxophones and percussion, Joseph Jarmen - saxophones and percussion, Lester Bowie - trumpet and percussion, Malachi Favors - bass and percussion, Don Moye - drums, Fontella Bass - vocal and piano)
Track Title: Theme de Yo Yo
Composer: Art Ensemble of Chicago
Album Title: Les Stance a Sophie
Label: Soul Jazz Records
http://www.artensembleofchicago.com/
Read a review of Les Stances A Sophie here - http://www.bbc.co.uk/music/release/9vn8/
Excerpt from Martin Speake's Weather Permitting recorded in sesson featuring Bobo Stenson (details below).
CD track:
Artist: Matthew Shipp Trio (Matthew Shipp - piano, Joe Morris - bass, Whit Dickey - drums)
Track Title: Roe
Composer: Matthew Shipp
Album Title: Harmonic Disorder
Label: Thirsty Ear
http://www.matthewshipp.com/
Marc Ducret recommended listening:
Album Title: L'Ombra di Verdi
Label: Screwgun Records
Released: 1999
http://www.screwgunrecords.com/
Album Title: Live No 2
Label: N/A
Released: 2006
http://www.marcducret.com/contact.html
CD tracks:
Artist: Klaus Paier/Asja Valcic (Klaus Paier - bandoneon, Asja Valcic - cello)
Track Title: Bordunarosa
Composer: Klaus Paier
Album Title: A Deux
Label: ACT
http://www.klaus-paier.com/html/index.html
http://www.asjavalcic.com/records.htm
Artist: Joe McPhee/Paal Nilssen-Love (Joe McPhee - tenor sax, Paal Nilssen-Love - drums)
Track Title: Build and Break
Composer: McPhee/Milssen-Love
Album Title: Tomorrow Came Today
Label: Smalltown Superjazz
http://www.joemcphee.com/
http://www.paalnilssen-love.com/
Martin Speake's Change of Heart group recorded in session featuring Bobo Stenson.
Line up:
Martin Speake - saxophone
Bobo Stenson - piano
Steve Watts - bass
Jeff Williams - drums
Set one list:
1. Weather Permitting (Speake)
2. Best Laid Plans (Speake)
3. 15 Years Too long (Speake)
4. Lost In Transit (Speake)
5. Bison (Speake)
Martin Speake in conversation with Jez Nelson.
Set two list:
1. Ramshackle (Speake)
2. Always A First Time (Speake)
3. Unrepentant (Speake)
4. Sam (Speake)
http://www.martinspeake.co.uk/
http://www.flickr.com/photos/23854573@N00/sets/72157614155455874.
Last on