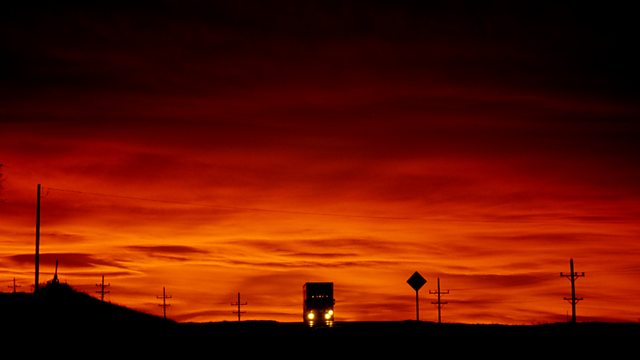 22/02/2009
With John Shea.
1.00am
Brahms, Johannes (1833-1897): Sonata No 2 in F for cello and piano, Op 99
Claudio Bohorquez (cello)
Marcus Groh (piano)
1.27am
Bach, Johann Sebastian (1685-1750): Suite No 1 in G for cello, BWV1007
Claudio Bohorquez (cello)
1.43am
Prokofiev, Sergey (1891-1953): Sonata in C for cello and piano, Op 119
Claudio Bohorquez (cello)
Ana Maria Campistrus (piano)
2.07am
Mahler, Gustav (1860-1911): Kindertotenlieder
Robert Holl (bass)
Royal Concertgebouw Orchestra
Riccardo Chailly (conductor)
2.34am
Brade, William (1560-1630): Newe ausserlesne paduanen und galliarden
Hesperion XX
Jordi Savall (conductor)
3.00am
Beethoven, Ludwig van (1770-1827): 32 Variations in C minor for piano, WoO 80
Antti Siirala (piano)
3.12am
Schumann, Robert (1810-1856): Konzertstuck in F for four horns and orchestra, Op 86
Kurt Kellan, John Ramsey, William Robson, Lauri Metiation (horns)
Calgary Philharmonic Orchestra
Mario Bernardi (conductor)
3.31am
Goldmark, Karoly (1830-1915): String Quartet in B flat, Op 8
Kodaly Quartet
4.00am
Cernohorsky, Bohuslav Matej (1684-1742): Fuga in D minor
Marcel Verheggen (organ)
4.03am
Kuchar, Jan Krtitel (1751-1829): Fantasia II in D minor
Peter van Dijk (organ)
4.09am
Gluck, Christoph Willibald (1714-1787): Aria: Non piu! L'eroe trojano, illustri atleti; and chorus: Lodi al Nume nell'arco possente (Paride ed Elena)
Elena ...... Claron McFadden (soprano)
Vokalensemble La Stagione
La Stagione Frankfurt
Michael Schneider (conductor)
4.13am
Skerjanc, Lucijan Marija (1900-1973): Concerto for violin and orchestra
Igor Ozim (violin)
Slovenian Philharmonic
Samo Hubad (conductor)
4.43am
Koussevitsky, Serge (1874-1951): Andante cantabile; Valse miniature, Op 1 Nos 1 and 2
Gary Carr (double bass)
Harmon Lewis (piano)
4.52am
Moniuszko, Stanislaw (1819-1872): Polonaise de concert in A
Polish Radio Symphony Orchestra
Zygmunt Rychert (conductor)
5.00am
Perugia, Matteo da (fl.1400-1416)/Millenarium: Andrey soulet (Canzon for three voices)
5.07am
Anonymous (14th century): Bassa danza (Faenza Codex)
Millenarium
Christophe Deslignes (organetto/director)
5.13am
Hannikainen, Ilmari (1892-1955): Rural Dances, Op 39a
Finnish Radio Symphony Orchestra
Petri Sakari (conductor)
5.28am
Scriabin, Alexander (1872-1915): Study No 10 in D flat, Op 8
5.30am
Busoni, Ferruccio (1866-1924): Sonatina super Carmen (Sonatina No 6) for piano (Kammerfantasie)
Matti Raekallio (piano)
5.39am
Lipinski, Karol Jozef (1790-1861): Rondo alla Polacca in E, Op 13
Albrecht Breuninger (violin)
Polish Radio Symphony Orchestra
Wojiech Rajski (conductor)
5.54am
Jarzebski, Adam (1590-1649): In te domine speravi
Lucy van Dael, Marinette Troost (violins)
Richte van der Meer, Reiner Zipperling (violas da gamba)
Anthony Woodrow (violone)
Viola de Hoog (cello)
Michael Fentross (theorbo)
Jacques Ogg (organ)
6.00am
Cavalli, Francesco (1602-1676): Dixit dominus a 8 (Musiche sacre concernenti messa)
Balthasar-Neumann-Chor
Balthasar-Neumann-Ensemble
Thomas Hengelbrock (conductor)
6.12am
Bach, Johann Sebastian (1685-1750), transcr. Busoni: Toccata, Adagio and Fugue in C minor, BWV564
Vladimir Horowitz (piano)
6.23am
Sibelius, Jean (1865-1957): Music to a Scene; Dance Intermezzo, Op 45 No 2 - orchestral versions
Finnish Radio Symphony Orchestra
Jukka-Pekka Saraste (conductor)
6.33am
Diepenbrock, Alphons (1862-1921): La chanson de l'hypertrophique
Roberta Alexander (soprano)
Rudolf Jansen (piano)
Diepenbrock: Berceuse
Jard van Nes (mezzo-soprano)
Daniel Esser (cello)
Rudolf Jansen (piano)
Diepenbrock: Maanlichtl; De klare dag
Christoph Pregardien (tenor)
Rudolf Jansen (piano)
6.50am
Schickhard, Johann Christian (c.1682-c.1760): Sonata in C for flute and harpsichord
Vladislav Brunner Jr (flute)
Herta Madarova (harpsichord).
Last on