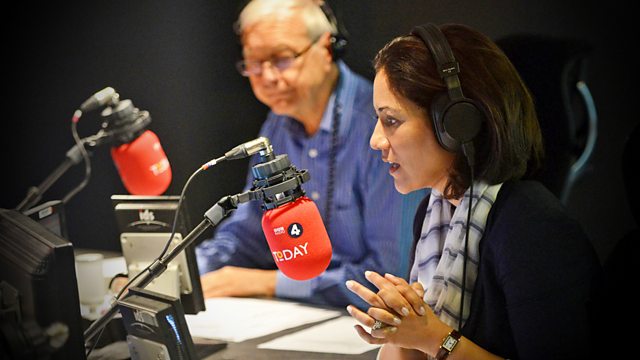 23/02/2009
Presented by Sarah Montague and James Naughtie.
Business editor Robert Peston outlines what the lending increase in mortgage lending by Northern Rock will mean.
Entertainment correspondent Colin Paterson runs through this year's Oscar winners.
Former haemophilia patient Haydn Lewis and Dr Mark Winter discuss the after effects of the blood transfusion disaster.
Reporter Sanchia Berg met Alison Hindmarsh, who worked for 16 years at Woolworths' main distribution warehouse in Swindon.
The government has announced plans to increase mortgage lending by up to 14 billion pounds at Northern Rock. Chancellor Alistair Darling explains.
Thought for the day with Reverend Joel Edwards, the international director of the Micah Challenge.
Shadow chancellor George Osborne says the government should help all companies get the credit they need.
Arts Correspondent Rebecca Jones is in Los Angeles to talks about this year's Oscar results.
Author James Lovelock discusses how we should focus on saving the human race and leave the planet to look after itself.
Professor Frank Partnoy discusses the lessons to be learnt from the 1930s fraud king Ivar Kreuger.
Writer Simon Beaufoy, who won the Oscar for best adapted screenplay for Slumdog Millionaire, talks about what winning has meant to him.
James Crabtree of Prospects magazine and NUS President Wesley Streeting discuss whether a civic service scheme could help unemployment.
Former Home Secretary David Blunkett and former shadow Home Secretary David Davis discuss why the issue of civil liberties has returned to centre stage.
Last on
So you think you know the Today programme?