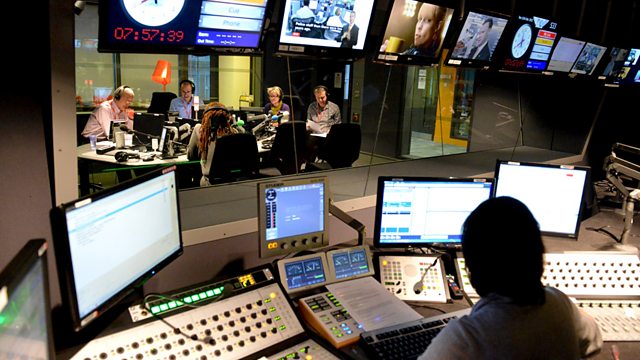 26/02/2009
Presented by James Naughtie and Evan Davis.
Business editor Robert Peston talks to the new chief executive of RBS, Stephen Hester, about record losses announced by the firm.
Economist Ian Senior discusses government plans to part-privatise Royal Mail.
Reporter Mark Hutchings speaks to two 16-year-olds with babies and their mothers from the valleys of Pontypridd and Aberdare in Wales.
Professor Mark Pagel of Reading University discusses some of the oldest words in use and the ones that are likely to become extinct.
Michelle Ricard, who had a gastric band fitted, and weight loss surgery specialist Mr Justin Morgan discuss why the numbers of people having obesity surgery have increased.
Derek Simpson, joint general secretary of the union Unite, discusses how many workers could be lost at the Royal Bank of Scotland.
Reporter Sanchia Berg speaks to Lucy Bennett, an out-of-work young architect in London.
Thought for the day with the Reverend Dr David Wilkinson, principal of St John's College, Durham.
Children's Minister Beverley Hughes discusses if figures for young pregnancies (which are expected to rise) can be curbed by government intervention.
Chancellor Alistair Darling discusses a scheme to siphon off RBS's toxic assets, said to be worth 325 billion pounds.
Reporter Angus Stickler accompanies one postman on his round in Oxfordshire to discover what people in the area think about part-privatisation.
Cllr Bob Jones and Elizabeth Truss of think-tank Reform discuss how police efficiency can be improved.
Arts correspondent Razia Iqbal talks to Antony Gormley about the ambitious plans to fill the vacant fourth plinth in Trafalgar Square.
Orwell Prize director Jean Seaton and blogger Hopi Sen discuss if blogging has become as respected as novel writing or journalism.
Correspondent James Alexander reports on the transfer of many personal records underground to be stored down Britain's biggest salt mine, at Winsford in Cheshire.
Columnist Polly Toynbee and Anastasia De Waal of the think tank Civitas discuss why the UK still has the highest rate of teenage pregnancy in Europe.
Last on