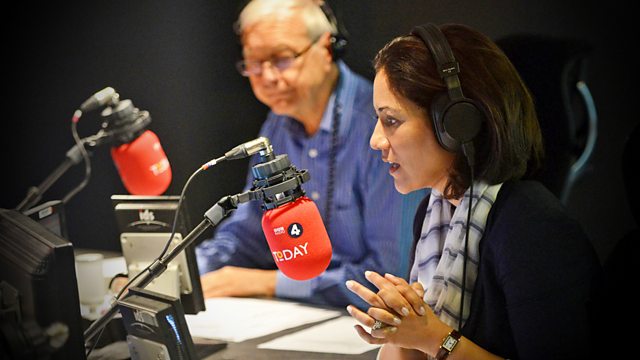 25/02/2009
Presented by James Naughtie and John Humphrys.
Robert Peston reports on the questions the FSA will be asked by the Treasury Select Committee.
Sir Christopher Frayling, rector of the Royal College of Art, discusses if the Victoria and Albert museum should open an offshoot in Dundee.
Reporter Sanchia Berg visits a jobs fair in Sunderland to meet Shaun Fenwick, a former car worker now looking to change careers.
Science and security expert Jacqueline Shire discusses Iran's first test of a nuclear reactor.
North America editor Justin Webb examines Barack Obama's claims that the US will emerge stronger from the economic crisis.
Communities secretary Hazel Blears discusses if the era of political correctness should come to an end.
Science reporter Tom Feilden explains how a malfunction caused a NASA spacecraft to crash in the ocean near the Antarctic.
Thought for the day with John Bell of the Iona Community.
Economic commentator Professor Tim Congdon and Danny Gabay, director of Fathom Financial Consulting, discuss 'outside-the-box' thinking to solve the economic crisis.
Former Lord Chancellor Lord Falconer and Labour MP Andrew MacKinlay discuss if cabinet minutes should remain private.
Iran will launch the pilot operation of its first nuclear power plant in the southern city of Bushehr. Jon Leyne reports.
Comedians Rob Brydon and Barry Cryer discuss the future of the BBC Radio 4 programme I'm Sorry I Haven't a Clue.
Security correspondent Gordon Corera reports on the arrival of former Guantanamo Bay detainee Binyam Mohamed back in the UK. Human rights lawyer Philippe Sands and Douglas Murray, director of think tank Centre for Social Cohesion, discuss what could now happen to Mr Mohamed.
Justice Secretary Jack Straw's email account has been hacked by internet fraudsters. Cyber-crime specialist Professor David Wall discusses how an email account could be accessed.
Neuroscientist Professor Colin Blakemore discusses social networking internet sites.
Correspondent Aleem Maqbool reports from Gaza City on negotiations between Hamas and Fatah.
Journalists Stryker McGuire and Bronwyn Maddox discuss Barack Obama's first speech to congress.
Last on