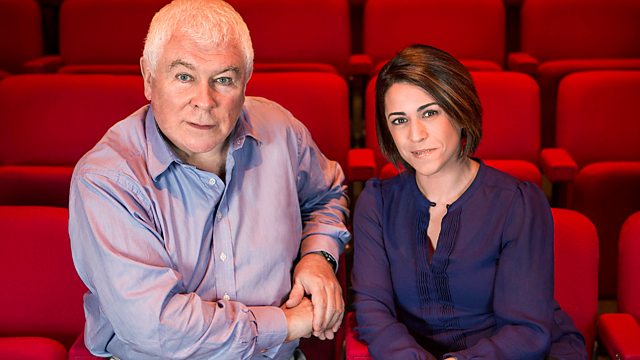 20/02/2009
Sean Rafferty presents a selection of music and guests from the arts world.
The Belcea Quartet, one of the leading young string quartets, join Sean for a performance of works by Haydn and Schubert.
And as John Adams's new opera Doctor Atomic opens at ENO in London, Sean talks to director Penny Woolcock and conductor Lawrence Renes about the American composer's achievement in bringing the work to life.
17:02
CHOPIN
Waltz in A flat major, op.34, no.1
Stephen Hough (piano)
HYPERION CDA67686
Track 6
5'38
17:09
JOHN ADAMS
Two Fanfares for Orchestra
San Francisco Symphony
Edo de Waart (conductor)
NONESUCH 7559-79453-2
Track1-2
8'31
17:18
SCHUBERT
LIVE
Scherzo from String Quartet no.14 (Death and the Maiden)
Belcea String Quartet
3'48
17:29
LIVE
HAYDN
String Quartet in F minor, Op.50, no.4 (Andante)
Belcea String Quartet
8'06
17:39
ROUSSEL
Evocations for orchestra, op.15 (La ville rose)
Czech Philharmonic Orchestra
Zdenek Svehla (conductor)
SUPRAPHON 1119852
Track 2
10'03
17:49
ANON
Elergy to the lark
Bryn Terfel
London Symphony Orchestra
DEUTSCHE GRAMMAPHON 477 7865
Track 11
2'15
Segue
17:52
ANON
The Last of the Queenes Masks
Elizabeth Kenny (lute)
HELIOS CHD55249
Track 2
1'10
17:54
FRANCES CILEA
L'Arelsiana (Ela solita storia del pastore…)
Roberto Alagna (tenor)
The London Philharmonic
Richard Armstrong (conductor)
EMI CDC5555402
Track 4
4'45
18:03
DEBUSSY
Clair de Lune
Jean-Yves Thibaudet (piano)
UCJ 4766195
Track 15
4'40
18:08
PROKOFIEV
The Tale of the Stone Flower, op.118 (Act II, scene 4: waltz)
BBC Philharmonic Orchestra
Gianandrea Noseda (conductor)
CHANDOS CHAN 100582
Track 21
4'07
18:14
JOHN ADAMS
Dr Atomic Symphony
BBC Symphony Orchestra
John Adams (conductor)
BBC Proms premiere, 21st August 2007
3'50
18:26
JOHN ADAMS
Dr Atomic, Act 1, Scene 2
Jessica Rivera (Kitty Oppenheimer)
Netherlands Philharmonic Orchestra
Lawrence Renes (conductor)
4'59
18:36
ADAMS
Dr Atomic, Act I, Scene 3
Gerald Finley (J.Robert Oppenheimer)
Netherlands Philharmonic Orchestra
Lawrence Renes (conductor)
4'46
18:42
HAYDN
Keyboard Concerto in C major (Hob.XVIII:5)
Kettil Haugsand (harpsichord)
Cologne Chamber Orchestra
Helmut Müller-Brühl (conductor)
NAXOS 8.506019
CD5, Track 4-6
11'29
18:56
FRANCISCO GUERRERO
Song of Songs: Ego floss campi
The Sixteen
Harry Christophers (director)
CORO COR160067
Track 5
3'18
Last on