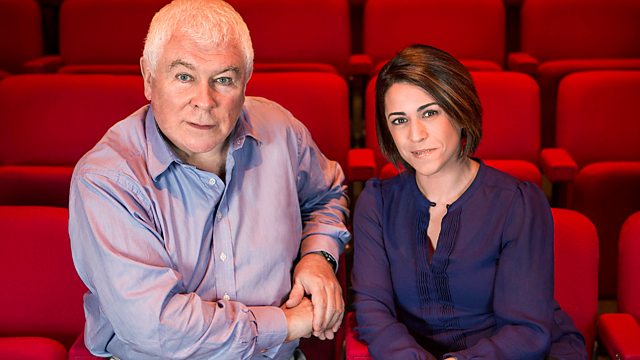 19/02/2009
Sean Rafferty presents a selection of music and guests from the arts world.
Young flautist Adam Walker and pianist John Reid play in the studio and talk about their concert in the Jacqueline du Pre building, Oxford.
And members of Opera Holland Park present Puccini's Tosca perform at the studio piano, prior to their new production at Richmond Theatre. Soprano Amanda Echalaz plays Tosca, bass-baritone Nicholas Garrett plays Scarpia. Conductor Phillip Thomas and director Stephen Barlow also talk about the production.
17.02
GIOVANNI GABRIELI
Sacrae Symphoniae no.11, C180 (Canzon in echo duodecimi toni a 10)
Brass of the Royal Concertgebouw Orchestra
Ivan Meylemans (conductor)
RCO LIVE 07002
Tr 6
3.55
17.07
PUCCINI
Tosca: Act III: Lucevan E Stelle
Giuseppe di Stefano (Cavaradossi),
Vienna State Opera Choir & Vienna Philharmonic,
Herbert Von Karajan (conductor)
DECCA 466 384-2
Tr 14-15
4'07
17.12'
LIVE
DEBUSSY
Syrinx
Adam Walker (flute)
3'18
17.20
BACH
Sonata for flute in A, BWV 1032:
Largo e dolce
Adam Walker (flute)
John Reid (piano).
LIVE
3'24
17.28
LIVE
TAFFANEL
Fantasia on themes from 'Der Freischutz' for flute and piano
Adam Walker (flute)
John Reid (piano)
11'57
17.41
MOZART
Serenata Notturne KV. 239
Le Concert des Nations
Jordi Savall (director)
ALIA VOX AVSA 9846
Tr 1-3
14'34
18.04
TURINA
La Procesion del Rocio (Op.9)
Cincinnati Symphony Orchestra
Jesus Lopez-Cobos (Conductor)
TELARC CD 80574
Tr 10-11
8:31
18.13
GIOVANNI FELICE ANERIO
Salve Regina
The Choir of Westminster Cathedral
James O'Donnell (Master of Music)
HYPERION CDH 55213
Tr 13
4'37
18.20
LIVE
PUCCINI
Tosca: Act I: Allegro - Chi sa dove sia?
Amanda Echalaz (Tosca)
Nicholas Garrett (Scarpia)
Philip Thomas (piano)
6'34
18.30
LIVE
PUCCINI
Tosca: Act II: Gavotta - Tarda e la notte
Nicholas Garrett (Scarpia)
Philip Thomas (piano)
3'22
18.38
LIVE
PUCCINI
Tosca: Act II: Vissi D'arte
Amanda Echalaz (Tosca)
Nicholas Garrett (Scarpia)
Philip Thomas (piano)
4'15
18.43
VIVALDI
Concerto Grosso RV156 in G minor
Akademi fur Alte Musik Berlin
HARMONIA MUNDI HMC901975
Tr.1-3
6'17
18.53
BELLINI
Norma (Casta Diva)
Joan Sutherland (soprano)
London Symphony Orchestra and Chorus
Richard Bonynge (conductor)
DECCA 425 488-2
Tr8
6.28
Last on