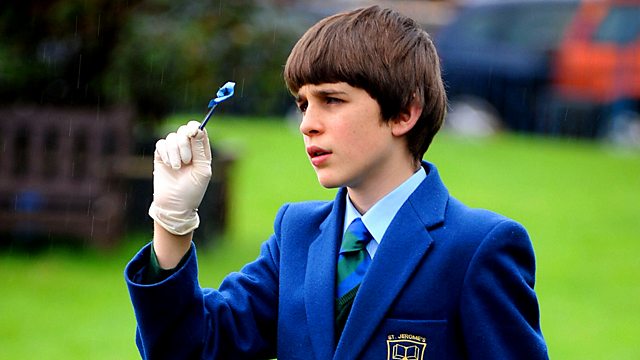 The Curse of the Emerald Phoenix
The disappearance of a valuable artefact during a performance of the St Jerome's school play causes panic among the actors, as it belongs to headmistress Quinn, who will go nuts if she learns it is missing. Moon's sister Hazel, meanwhile, is worried for a different reason: she fears her chances of kissing the leading man in the final scene could be scuppered if the crucial prop is not found.
With the clock ticking, Moon, Red and Mia head backstage to investigate. On discovering that an Inspector Moon has mysteriously been written into one of the play's scenes, Moon decides to take up the gauntlet, making an impromptu appearance on stage in an attempt to ascertain who the thief is. Can he recover the Phoenix before it is too late?
Last on
Credits
| Role | Contributor |
| --- | --- |
| Fletcher Moon | Rory Elrick |
| Red Sharkey | Sebastian Charles |
| Mia Stone | Olivia Grant |
| April Devereaux | Nicola Duffell |
| Principal Quinn | Jennifer Black |
| Hazel Moon | Robyn Milne |
| Tom Holmes | Aiden Grimshaw |
| Simon | Joseph C Phillips |
| Rob | Munmeet Sandhu |
| Jay | Murray Alford |
| James | Joe Sentance |
| Zara | Rameet Sandhu |
| Mercedes | Marion Weaver |
| Mrs Moon | Hilary Maclean |
| Mr Moon | Gary MacKay |
| Mr Fey | Ross Brown |
| Producer | Jonathan Phillips |
| Director | Marcus DF White |
| Writer | Max Allen |