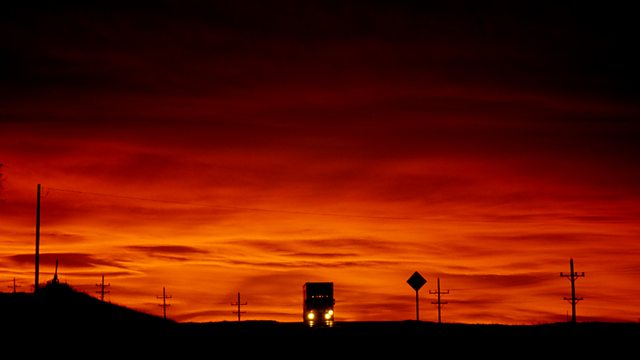 17/02/2009
With Jonathan Swain.
1.00am
Suk, Josef (1874-1935): Elegie, Op 23 - arr. for piano trio
Aronowitz Ensemble:
Nadia Wijzenbeek (violin)
Marie Macleod (cello)
Tom Poster (piano)
1.08am
Schumann, Robert (1810-1856): 4 Nachtstucke for piano, Op 23
Shai Wosner (piano)
1.25am
Schumann, Robert (1810-1856) text Heinrich Heine: Dichterliebe, Op 48
Ronan Collett (baritone)
Christopher Glynn (piano)
1.55am
Ibert, Jacques (1890-1962): Trois Pieces breves for wind quintet
Galliard Ensemble
2.03am
Suk, Josef (1874-1935): Krekovice mass in B flat minor for chorus, strings and organ
Marie Matejkova (soprano)
Ilona Satylova (alto)
Jiri Vinklarek (tenor)
Michael Mergl (bass)
Miluska Kvechova (organ)
Czech Radio Choir
Pilzen Radio Orchestra
Stanislav Bogunia (conductor)
2.28am
Schumann, Robert (1810-1856): Concerto in A minor for piano and orchestra, Op 54
Olli Mustonen (piano)
Trondheim Symphony Orchestra
Eivind Aadland (conductor)
3.00am
Debussy, Claude (1862-1918): Clair de lune
Jane Coop (piano)
3.06am
Holst, Gustav (1874-1934): The Planets - suite, Op 32
BBC Symphony Chorus
BBC Symphony Orchestra
Leonard Slatkin (conductor)
3.57am
Schubert, Franz (1797-1828): An den mond (To the Moon), D259
Christoph Pregardien (tenor)
Andreas Staier (fortepiano)
4.01am
Raitio, Vaino (1891-1945): Moonlight on Jupiter, Op 24
Finnish Radio Symphony Orchestra
Sakari Oramo (conductor)
4.14am
Forqueray, Antoine (1672-1745), arr. Forqueray, Jean-Baptiste: Jupiter
Bob van Asperen (harpsichord)
4.19am
Lindberg, Oskar (1887-1955): Stjarntandningen (Starlight)
Swedish Radio Choir
Eric Ericson (conductor)
4.22am
Weill, Kurt (1900-1950) lyrics by Maxwell Anderson: Lost in the Stars
Jean Stilwell (mezzo-soprano)
Robert Kortgaard (piano)
Marie Berard (violin)
Joseph Macerollo (accordion)
Andy Morris (percussion)
4.26am
Mozart, Wolfgang Amadeus (1756-1791): Symphony No 41 in C, K551 (Jupiter)
Bergen Philharmonic Orchestra
Robert King (conductor)
5.00am
Galuppi, Baldassare (1706-1785): Keyboard Sonata No 1 in B flat
Leo van Doeselaar (organ)
5.06am
Vivaldi, Antonio (1678-1741): Magnificat in G minor, RV 610
Choir of Latvian Radio
Riga Chamber Players
Sigvards Klava (conductor)
5.21am
Dallapiccola, Luigi (1904-1975): 2 Cori di Michelangelo Buonarroti il Giovane
The Netherlands Chamber Choir
Eric Ericson (conductor)
5.32am
Cozzolani, Suor Chiara Margarita (1602-c.1677): O quam bonus es - motet for two voices
Frida Forlani, Alessandra Fiori (soprano)
Cappella Artemesia
Candace Smith (director)
5.43am
Viotti, Giovanni Battista (1755-1824): Duo concertante in G
Alexandar Avaramov, Ivan Peev (violins)
5.52am
Tartini, Giuseppe (1692-1770): Concerto in D for violin and orchestra, D28
Stavanger Symphony Orchestra
Fabio Biondi (violin/conductor)
6.09am
Merku, Pavle (b.1927): Astrazioni (Abstraction), Op 23
Trio Luwigana
6.22am
Moniuszko, Stanisław (1819-1872): Niepewnosc (Uncertainty); Piesn wieczorna (Evening song)
Urszula Kryger (mezzo-soprano)
Katarzyna Jankowska-Borzykowska (piano)
6.28am
Bacewicz, Grazyna (1909-1969): Suite for chamber orchestra
Polish Radio Symphony Orchestra
Jan Krenz (conductor)
6.36am
Tchaikovsky, Pyotr Il'yich (1840-1893): Francesca da Rimini - symphonic fantasia after Dante, Op 32
Orchestre du Conservatoire de Musique du Quebec
Raffi Armenian (conductor).
Last on