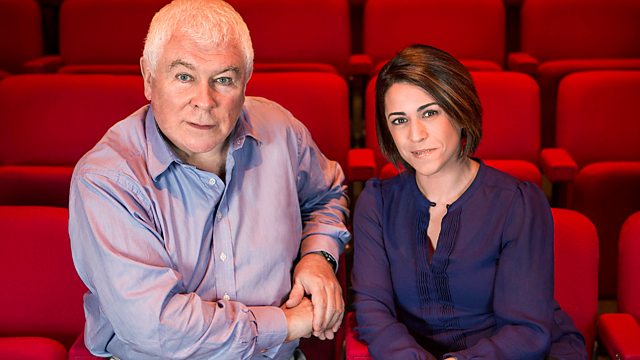 16/02/2009
Sean Rafferty presents a selection of music and guests from the arts world, including violinist Vadim Repin, who talks about his Razumovsky Academy masterclass. He discusses his upcoming concert at the Royal Festival Hall, with the Philharmonia Orchestra, conducted by Ion Marin.
Tenor Toby Spence is accompanied by Graham Johnson in the studio as they give a preview of their upcoming recital at London's Wigmore Hall.
Plus Scottish Opera general director Alex Reedijk talks about the latest run of Five:15 operas, the company's innovative programme of new short works by Scottish-based artists, which were premiered in 2008.
17:03
ANTONIO BAZZINI
Le Ronde des lutins
Vadim Repin (violin)
Alexander Markovich (piano)
WARNER CLASSICS 2564 63263-2,
CD1/T.3
4'45
17:08
MOZART
Cosi fan tutte (Act 1 - Her eye so alluring)
Toby Spence (tenor)
Orchestra of the Age of Enlightenment
Sir Charles Mackerras (conductor)
CHANDOS CHAN 3152
CD1/T.33
4'43
17:14
LALO
Symphonie espagnole, op.21 (Allegro non troppo)
Vadim Repin (violin)
London Symphony Orchestra
Kent Nagano (conductor)
WARNER CLASSICS 2564 63263-2
CD10/T.1
7'40
17:27
TCHAIKOVSKY
Souvenir d'un lieu cher, op.42 (Melody)
Vadim Repin (violin)
Alexander Markovich (piano)
WARNER CLASSICS 2564 63263-2
CD1/T.2
3'16
17:39
BRAHMS
Concerto for Violin and Orchestra in D major, op.77 (3rd mvt).
Vadim Repin (violin)
Gewandhausorchester
Riccardo Chailly
DEUTSCHE GRAMMOPHON 4777470
T.3
7'51
17:49
BERNSTEIN
Candide (Finale: Make Our Garden Grow)
Orchestra and Chorus of Scottish Opera
Justin Brown (conductor)
THAT'S ENTERTAINMENT
CDTER1156 T.16
3'56
17:54
BACH
The Lark
Evgeny Kissen (piano)
RCA 88697301102
CD2 T.10
5'13
18:03
WALTON
Façade Suite No.1 (Valse)
Bournemouth Symphony Orchestra
Andrew Litton (conductor)
DECCA 4702002
T.3
3'13
18:07
CHARLES AVISON
Sonata in G major, op.8, no.6
The Avison Ensemble
DIVINE ART DDA21214
T.12
7'27
18:15
LIVE
BRITTEN
Seven Sonnets of Michelangelo, op.22
(Sonnet XXX – Veggio co' bei vostri occhi un dolce lume)
Toby Spence (tenor)
Graham Johnson (piano)
3'31
18:25
LIVE
BERLIOZ
Les Nuits D'été (L'Ile inconnue)
Toby Spence (tenor)
Graham Johnson (piano)
3'37
18:36
PURCELL (realised by Benjamin Britten)
An Evening Hymn
Toby Spence (tenor)
Graham Johnson (piano)
4'56
18:41
MYERS
Cavatina
Göran Söllscher (guitar)
DEUTSCHE GRAMMOPHON 477 7582
T.1
3'32
18:46
CHABRIER
España
Orquesta Sinfonica de la RTV Española
Igor Markevitch (conductor)
PHILIPS 432 826-2
T.1
5'37
18:54
WILBYE
Draw on Sweet Night
The King's Singers
SIGNUM CLASSICS
SIGCD147
Tk1
5'20
Last on