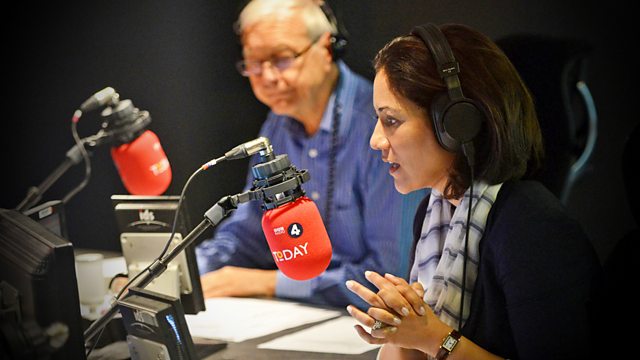 20/02/2009
Presented by Evan Davis and James Naughtie.
Former attorney with the US Securities and Exchange Commission Howard Meyers explains why civil papers have been served on cricket entrepreneur Sir Allen Stanford.
Prof Robin Alexander of the Cambridge Primary Review says a broad school curriculum improves basic skills.
Correspondent Huw Williams visits the Isle of Harris in the Outer Hebrides to see if national park status will ease its population crisis.
Zubeida Malik investigates the problem of polygamy in Britain.
Advertiser Matthew Golding, who is to create a viral for the Today programme, explains why this form of marketing is the future of the industry.
Thought for the day with Abdal Hakim Murad, Muslim Chaplain at the University of Cambridge.
Steve Cooper from Barclays Bank and Andrew Cape from the Federation of Small Businesses discuss if lending to small businesses is increasing.
Missing tycoon Sir Allen Stanford has been found in Virginia and served with official papers by FBI agents. Business correspondent Greg Wood talks about the implications for Antigua and Congressman Dennis Kucinich discusses why authorities in the US did not discover the case earlier.
Arts correspondent Rebecca Jones looks at memorable Oscar speeches from the past and what to expect from this year's stars.
Chairman of the Muslim Forum Manzoor Moghal and Prof Haleh Afshar, of the University of York, discuss if it is time for policy makers to look into the possibility of registering all religious marriages to try to stop men from marrying more than one wife.
Education minister and Labour peer Baroness Morgan discusses what needs to be done to address imbalances in primary school education.
Writer Tom McCarthy and gallery director Roberta Cremoncini discuss why futurism has been fundamental to European modern art.
Sports editor Mihir Bose discusses what the Sir Allen Stanford case will mean for cricket in the UK.
John Christensen, of the Tax Justice Network, and lawyer Jay Krausse discuss the role of tax havens in the global financial crisis.
Last on