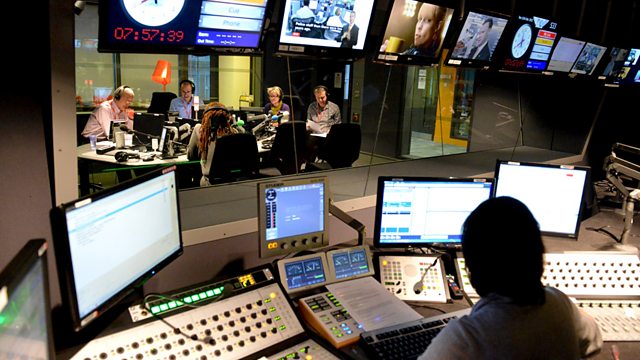 09/02/2009
Presented by John Humphrys and Sarah Montague.
Local workers in Australia describe the effects of the bushfires on devastated communities.
Robert Peston speaks to Barclays chief executive John Varley about debts that were built up in the run-up to the credit crunch and the global economic recession.
Science correspondent Tom Feilden explains why scientists want Britain to look again at GM foods.
Chief Secretary to the Treasury Yvette Cooper says bankers who contributed to the credit crunch should not receive bonuses.
Edward Stourton explains why the outcome of the Israeli election is difficult to predict.
Thought for the day with Rabbi Lionel Blue.
Lt Colonel Yvonne Bradley, lawyer for Guantanamo prisoner and British resident Binyam Mohamed, calls for the government to act to get him freed.
Australia is experiencing its worst bushfires since 1983. Nick Bryant reports from the town of Whittelsea, on the outskirts of Melbourne.
Curator at the BFI Katie McGahan and psychologist Dr Petra Boynton discuss sex education films.
Home Secretary Jacqui Smith is in the news for a controversy over her housing allowance. Political editor Nick Robinson outlines the rules.
Prof Ian Crute and Peter Melchett of the Soil Association discuss if the Britain is ready for a more rational debate about the merits of GM crops.
Jon Leyne examines the impact of the revolution in Iran, three decades on.
Sir David Bell of the Media Standards Trust and Sir Christopher Meyer of the PCC discuss press regulation.
Reporter Nicola Stanbridge meets two former bankers and asks how big their bonuses were and whether they can be justified.
Art critic Waldemar Januszczak and Andrew Nairne, of the Arts Council, discuss the state of British art.
Last on