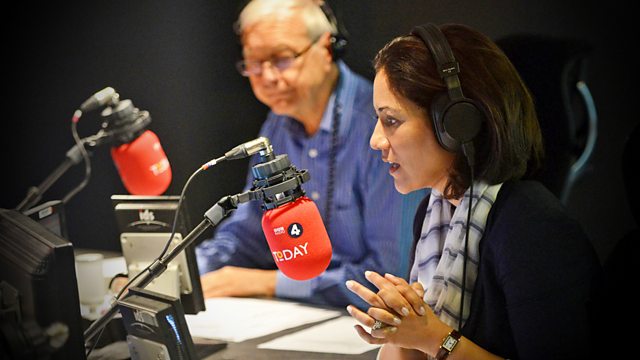 12/02/2009
Presented by John Humphrys and Evan Davis.
Schools minister Jim Knight discusses whether the Building Schools for the Future programme will be completed on time and on budget.
Lawyer Andrew Bainham explains why an adoption ruling could not be reversed.
Stuart Greenbaum of Aging Services of California discusses if older adults are offended by being called a 'codger', a 'fogey' or a 'fossil'.
Science correspondent Tom Feilden visits the biggest science conference in the world.
Lib Dem Home Affairs spokesman Chris Huhne discusses why Dutch MP Geert Wilders will not be allowed into the UK.
The British Antarctic Survey is starting a recruitment campaign. Tony McLaughlan, an electrician at the Rothera station in the Antarctic, discusses if working in such a remote region is a good idea.
Thought for the day with the Rev Dr David Wilkinson.
Business academics Peter Hahn and Andrew Gowers examine how the banking sector has to change.
Lawyer George Hawks and Lisa Christensen, Director of Children's Services at Norfolk County Council, discuss how a child's welfare is protected.
Nick Robinson examines the implications of Gordon Brown's grilling on the economy in his Q&A session with MPs.
Sir Clement Freud and journalist Stanley Johnson discuss if the media patronises people over a certain age.
Prof's Steve Jones and David Reynolds discuss the similarities between Abraham Lincoln and Charles Darwin.
Prof David Reynolds and headteacher Donalda McComb discuss if an extra language gives children the edge over pupils who are taught in English.
David Shukman reports on the Darwin Foundation's fears that the Galapagos Islands are threatened by tourism.
Oliver Kamm and Sir Lawrence Freedman discuss if the US's global standing is in decline.
Last on