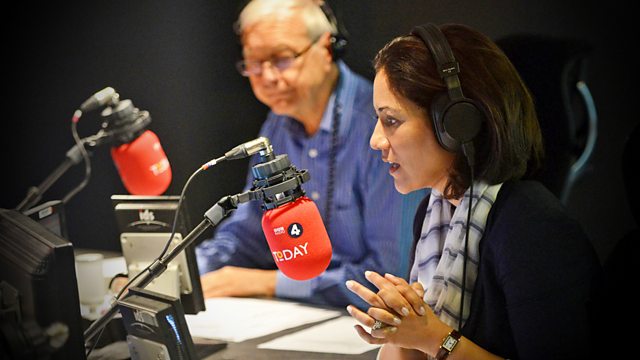 11/02/2009
Presented by Edward Stourton and Evan Davis.
Martin Barnes of DrugScope discusses the drug classification of ecstasy with Ian Johnston, President of the Police Superintendents' Association.
Tim Franks visits election headquarters as the election results in Israel are released.
Tom Riall of Serco Civil Government discusses the government's controversial plan to pay private companies to find jobs for the long-term unemployed.
Michael Fallon MP and former HBOS boss Michael Bolton discuss the banking crisis and lack of proper risk assessment.
General Synod lay member Paul Eddy and Bishop of Bradford David James discuss if there is a responsibility to share the Christian gospel.
Thought for the day with Vaishnav Hindu teacher and theologian Akhandadhi Das.
Edward Stourton examines the difficulty for Israel in deciding on a prime minister.
Reporter Nicola Stanbridge and Prof Danny Dorling discuss the consequences of the recession on the jobs market.
Zimbabwe's opposition leader Morgan Tsvangirai is to be sworn in as prime minister in a unity government with President Robert Mugabe.
Frank Gardner reports on the EU operation to counteract attacks by Somali pirates.
Prof Colin Blakemore and psychologist Andy Parrott discuss if society tolerates certain forms of harmful behaviour but not others.
Palestinian adviser Dr Sabri Saidam discusses how the Israeli election result may affect diplomatic relations.
Correspondent Peter Biles discusses the political situation in Zimbabwe with civil rights activist Kumi Naidoo.
Feminist historian Diane Purkiss and Stacey Abbott of Roehampton University discuss women in Hollywood films.
Middle East editor Jeremy Bowen discusses the Israeli elections with journalists Danny Rubenstein and Gil Hoffman.
Last on