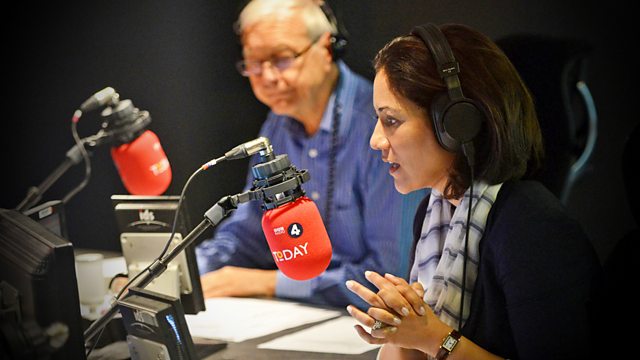 10/02/2009
Presented by John Humphrys and Evan Davis.
Craig Woolhouse of the Environment Agency discusses the 90 flood warnings which have been issued.
Edward Stourton asks Israeli pollster Rafi Smith who is likely to become Israel's new prime minister.
Banks could face legal action from workers who don't get their bonuses. Lawyer Ronnie Fox discusses.
Kevin Connelly reports on President Obama's attempts to increase support for his economic stimulus plan.
It is 30 years since the revolution in Iran brought Ayatollah Khomeini to power. Correspondent John Simpson remembers Mr Khomeni's return from exile.
Andrew Hosken explains how the second home allowance for MPs works.
Antiquities expert Zahi Hawass explains the importance of more than 20 mummies found inside a 2600-year-old Egyptian tomb.
Thought for the day with writer Anne Atkins.
Nick Bryant and Phil Mercer talk to people affected by the bushfires in Australia.
The former heads of the banks RBS and HBOS are to be questioned by MPs. Nick Robinson and Robert Peston discuss.
Steve Rosenberg reports from the German town of Halberstadt on an unusual recital: a new note is being played in John Cage's As Slow As Possible, which will not change for another year and a half.
Edward Stourton travels along the Gaza border to discover how the conflict will affect the Israeli elections.
Prof Germaine Greer and Neil Slavery of the Planning Institute of Australia discuss whether there needs to be a fundamental change in policy across Australia to make sure fires are managed properly.
Peter Crowden of the National Pest Technician's Association discusses rat population increases.
Prof Jim Al-Khalili and biographer Graham Farmelo discuss if aesthetics and logical thinking can go together.
Last on