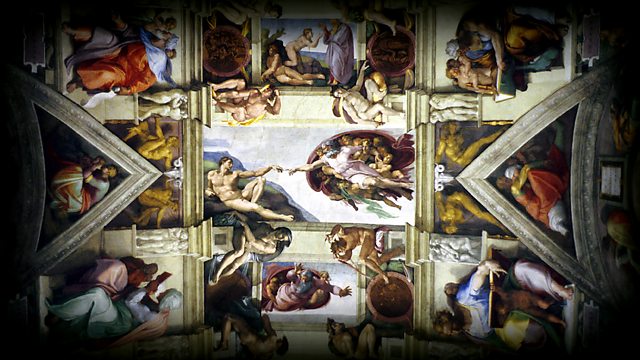 On the Ceiling
by Nigel Planer
Lapo ..... Phil Daniels
Loti ..... Bryan Dick
Pope Julius ..... Gary Waldhorn
Cardinal Alidosi ..... Roger Lloyd Pack
Composer ..... Adam Cork
Directed by Mary Peate
High up on the wooden scaffolding tower of the Sistine Chapel, two fresco plasterers get on with the day's work preparing the ceiling for their boss Michelangelo who has not bothered to turn up for work again. As they do so, they bemoan the uselessness of the great master.
Pope Julius and Cardinal Alidosi visit the chapel to inspect the progress of their commission. They are never very impressed, and the Pope is more concerned about getting Michelangelo to do his funeral monument at a knock-down price.
On the Ceiling is not about great artists; it is about those people whose names don't go down in history: the ones who do the essential drudge work, their frustration at their lack of genius and their pride in their own technical expertise. In this version of events, low elements combine to make high art.
Nigel Planer is best known as Neil in The Young Ones, and as Nicholas Craig - The Naked Actor. Other television productions include Shine on Harvey Moon; Dennis Potter's Blackeyes. On stage, Nigel has performed in Simon Gray's Unnatural Pursuits; Ben Elton's We Will Rock You and Hairspray.
Last on