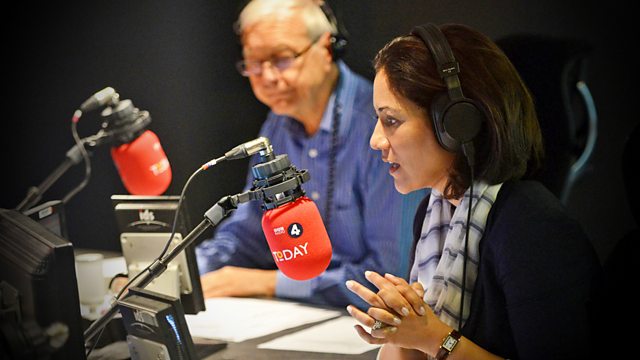 06/02/2009
Presented by Sarah Montague and Evan Davis.
Guy Hayhurst, a public health consultant from Cheshire, explains how the area has fought measles.
Sarah Ransome and Alex Bushill report on the latest travel disruptions caused by the snowfall.
Binyamin Netanyahu is expected to become the next Israeli prime minister following the forthcoming elections. What will this mean for the Middle East peace process?
Tim Franks examines the right-wing opposition party's prospects in the forthcoming election in Israel.
When is it good to be angry, and when is it good to be calm? We compare the pilot landing in the Hudson with actor Christian Bale's on-set outburst.
Novelist Anne Atkins and Ben Summerskill of Stonewall discuss if the BBC is out of touch with the public mood.
Sudarsan Raghavan and Patrick Cockburn discuss whether the results in Iraqi elections will lead to greater stability.
Thought for the day with Lord Harries of Pentregarth, Gresham Professor of Divinity.
Sports editor Mihir Bose and Olympics minister Tessa Jowell discuss the Olympic budget.
Prof David Salisbury of the Department of Health discusses the rise in cases of measles in England and Wales.
Prof John Sutherland and novelist Will Self discuss what effect the credit crunch will have on satire.
Business editor Robert Peston and banker Sir George Cox discuss whether bonuses should be paid to banking staff.
Israeli writer Amos Oz and Israeli government spokesman Mark Regev discuss what Israel's response will be to any further attack by Hamas.
Justin Webb asks what kind of administration is being revealed in these very early days of Barack Obama's presidency.
Former cricketer Ed Smith and investment banker Keith Harris examine whether sport is recession-proof.
Last on