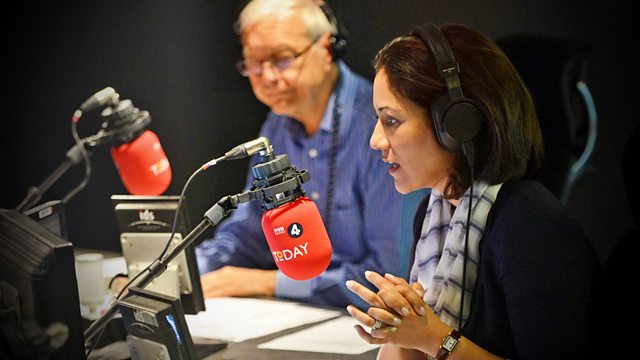 04/02/2009
Presented by Edward Stourton and John Humphrys.
Chief executive of NICE Andrew Dillon explains why a drug to treat advanced kidney cancer has been approved for use after previously being rejected.
Home affairs editor Mark Easton reports from Finland, where there are only three children in custody.
Technology correspondent Rory Cellan-Jones explains how Facebook has come to be so successful.
Media correspondent Torin Douglas explains the controversy surrounding Carol Thatcher.
Andy Moore reports on the difficult weather conditions which have claimed their first fatality.
President Obama has said that he 'screwed up' over his handling of a controversy that led two politicians to decline posts in his administration. Paul Glastris of the Washington Monthly discusses.
Composer Howard Goodall discusses how singing and music can be encouraged in primary schools.
Thought for the day with Akhandadhi Das, a Vaishnav Hindu teacher and theologian.
The President of the Faculty of Public Health, Dr Alan Maryon-Davis, says the nanny state doesn't go far enough.
Michael Howard MP and Prof Rod Morgan, former chairman of the Youth Justice Board, discuss the disparity between child custody figures around Europe.
Derek Simpson, joint general secretary of the Unite union, says the issue of foreign subcontractors must be dealt with.
Author Timothy Ryback and journalist Robert McCrum discuss the reading habits of Adolf Hitler.
David Freud, vice chair of the Third Sector Taskforce, explains how charities can help the long-term unemployed.
Aleem Maqbool speaks to those in Gaza who had hoped that Hamas and Fatah would unite.
Journalists Gideon Rachman and Polly Toynbee discuss if allegations of protectionism made against President Obama's economic plan are true.
Last on