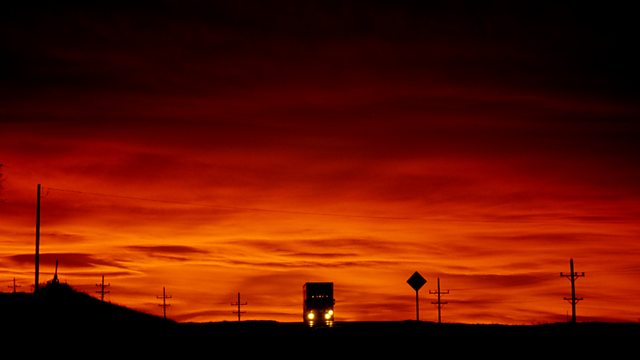 07/02/2009
With Jonathan Swain.
1.01am
Foretic, Silvio (b.1940): Am schonen braunen Rhein
1.10am
Beethoven, Ludwig van (1770-1827): Piano Concerto No 5 in E flat, Op 73
1.50am
Bartok, Bela (1881-1945): Concerto for orchestra, Sz 116
Vladimir Krpan (piano)
Zagreb Philharmonic Orchestra
Ivan Meylemans (conductor)
2.28am
Ravel, Maurice (1875-1937): Scarbo (Gaspard de la nuit)
Plamena Mangova (piano)
2.40am
Mussorgsky, Modest (1839-1881) orch. Nikolai Rimsky-Korsakov, Andrei Labinsky and Serge Liapunov: Songs and Dances of Death
Kolos Kovacs (bass)
Royal Concertgebouw Orchestra
Riccardo Chailly (conductor)
3.00am
Schubert, Franz (1797-1828): Overture (Des Teufels Lustschloss - The Devil's Castle)
Polish National Radio Symphony Orchestra in Katowice
Miroslaw Blaszczyk (conductor)
3.11am
Paganini, Niccolo (1782-1840): Concerto No 1 in D for violin and orchestra, Op 60
Jaap van Zweden (violin)
Netherlands Radio Symphony Orchestra
Kenneth Montgomery (conductor)
3.38am
Liszt, Franz (1811-1886): Eine Faust-Sinfonie, S108
Krunoslav Cigoj (tenor)
Zagreb Radio-Television Choir
Zagreb Philharmonic Orchestra
Lovro von Matacic (conductor)
4.45am
Liszt, Franz (1811-1886): Mephisto Waltz No 1, S514
Janina Fialkowska (piano)
4.57am
Skjavetic, Julije (fl.1557-1573) transcr. Dr Lovro Zupanovic: Madrigal: La mort' e fin (Death is the end)
Slovenian Chamber Choir
Vladimir Kranjcevic (director)
5.00am
Bottesini, Giovanni (1821-1889): Reverie
Goens, Daniel van (1858-1904): Scherzo
Gary Karr (double bass)
Harmon Lewis (piano)
5.06am
Rosetti, Antonin Frantisek (c.1750-1792): Concerto in E flat for two horns and orchestra, K3, No 53
Jozef Illes, Jan Budzak (horns)
Chamber Association of Slovakian Radio
Vlastimil Horak (conductor)
5.26am
Rimsky-Korsakov, Nikolai (1844-1908): Salieri's Aria (Mozart and Salieri - opera in one act, Op 48)
Robert Holl (bass)
Netherlands Radio Philharmonic Orchestra
Kenneth Montgomery (conductor)
5.34am
Liszt, Franz (1811-1886): Reminiscences on Mozart's Don Giovanni
Ferruccio Busoni (piano roll)
5.48am
Beethoven, Ludwig van (1770-1827): Seven variations on Bei Mannern, welche Liebe fuhlen for cello and piano, WoO 46
Zara Nelsova (cello)
Grant Johannesen (piano)
5.58am
Sor, Fernando (1778-1839): Introduction and variations on Mozart's O cara armonia for guitar, Op 9
Ana Vidovic (guitar)
6.07am
Tchaikovsky, Pyotr Il'yich (1840-1893): Suite No 4 in G for orchestra, Op 61
Winnipeg Symphony Orchestra
Kazuhiro Koizumi (conductor)
6.32am
Handel, Georg Frideric (1685-1759): Aria: Va tacito e nascosto (Giulio Cesare in Egitto)
Caesar ...... Graham Pushee (countertenor)
Australian Brandenburg Orchestra
Paul Dyer (artistic director)
6.39am
Kyurkchiiski, Krassimir (b.1936): Variations on a theme by Handel
Bulgarian National Radio Symphony Orchestra
Dimitar Manolov (conductor).
Last on