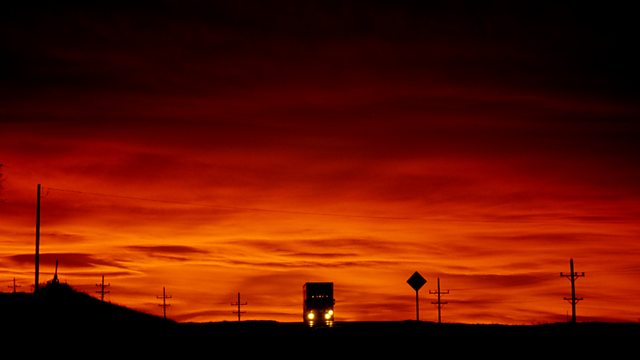 06/02/2009
With Jonathan Swain.
1.00am
Dvorak, Antonin (1841-1904): Romance in F, Op 11 - vers. for violin and piano
Mincho Minchev (violin)
Violinia Stoyanova (piano)
1.13am
Dvorak: Sonatina in G for violin and piano, Op 100
Vladimir Avramov (violin)
Rujka Charakchieva (piano)
1.35am
Dvorak: Slavonic Dance in E minor, Op 46, No 2
Ivan Peev (violin)
Violeta Popova (piano)
1.39am
Zelenka, Jan Dismas (1679-1745): Capriccio in F, ZWV 184
Ekkehard Hering, Wolfgang Kube (oboes)
Andrew Joy, Rainer Jurkiewicz (horns)
Rhoda Patrick (bassoon)
Akademie fur Alte Musik Berlin
Bernhard Forck (director)
1.55am
Michna z Otradovic, Adam (c.1600-1676): Dixit Dominus; Laudate pueri Dominum; Magnificat
Gabriela Elbenova (soprano)
Ales Prochazka (bass)
Capella Regia Musicalis
Robert Hugo (organ/director)
2.05am
Neruda, Johann Baptist Georg (c.1707-1780): Concerto in E flat for horn or trumpet and strings
Tine Thing Helseth (trumpet)
Oslo Camerata
Stephan Barratt-Due (conductor)
2.21am
Dvorak: Slavonic Dance No 10 in E minor, Op 72
Bergen Philharmonic Orchestra
Juanjo Mena (conductor)
2.28am
Dvorak: Symphony No 3 in E flat, Op 10
Netherlands Radio Philharmonic Orchestra
Hiroyuki Iwaki (conductor)
3.00am
Ranta, Sulho (1901-1960): Finnish Folk Dances - suite for orchestra, Op 51
Finnish Radio Symphony Orchestra
Jukka-Pekka Saraste (conductor)
3.10am
Bruch, Max (1838-1920): Scottish fantasy for violin and orchestra, Op 46
James Ehnes (violin)
Orchestre Symphonique de Montreal
Mario Bernardi (conductor)
3.40am
Vaughan Williams, Ralph (1872-1958): Three Shakespeare songs
Camerata Chamber Choir
Michael Bojesen (conductor)
3.47am
Beethoven, Ludwig van (1770-1827): Duet in E flat for viola and cello, WoO 32 (Mit zwei obligaten Augenglasern)
Milan Telecky (viola)
Juraj Alexander (cello)
3.56am
Sterkel, Johann Franz Xaver (1750-1817): Duet No 2 for two violas
Milan Telecky, Zuzana Jarabakova (violas)
4.06am
Schenck, Johann (1660-c.1712): Sonata in D for viola da gamba and continuo, Op 9, No 1 (L'Echo du Danube, 1706)
Berliner Konzert
4.20am
Kozeluch, Leopold (1747-1818): Pastorale in G
Pieter van Dijk (organ)
4.25am
Huygens, Constantijn (1596-1687): Pathodia sacra et profana (excerpt)
Anne Grimm (soprano)
Peter Kooij (bass)
Leo van Doeselaar (organ)
Mike Fentross (theorbo)
Mieneke van der Velden (viola da gamba)
4.34am
Lolli, Giuseppe Francesco (1701-1778): Sonata in B (Ms Konsistorial-Archiv Salzburg)
Salzburger Hofmusik
Wolfgang Brunner (director)
4.37am
Respighi, Ottorino (1879-1936): Trittico Botticelliano
Norwegian Radio Orchestra
Peter Santa (conductor)
5.00am
Borodin, Alexander (1833-1887): In the steppes of central Asia
Edmonton Symphony Orchestra
Uri Mayer (conductor)
5.08am
Mozart, Wolfgang Amadeus (1756-1791): Piano Sonata in A, K331 (Alla Turca)
Young-Lan Han (piano)
5.29am
Holst, Gustav (1874-1934): Beni Mora - oriental suite, Op 29, No 1
BBC Scottish Symphony Orchestra
Rumon Gamba (conductor)
5.45am
Rore, Cipriano de (c.1515-1565): Da le belle contrade d'oriente; Da l'estrem'orizonte; Se com'il biondo crin de la mia Filli; Amor, che t'ho fatt'io
The Consort of Musicke
Anthony Rooley (director)
5.57am
Meijering, Chiel (b.1954): La vengeance d'une femme
Janine Jansen (violin)
6.04am
Maldere, Pieter van (1729-1768): Sinfonia a 4 in F
The Academy of Ancient Music
Filip Bral (conductor)
6.17am
Diepenbrock, Alphons (1862-1921): Ecoutez la chanson bien douce; Clair de Lune
Roberta Alexander (soprano)
Rudolf Jansen (piano)
6.25am
Brahms, Johannes (1833-1897): Schicksalslied (Song of destiny), Op 54
Oslo Philharmonic Choir and Orchestra
Rafael Fruhbeck de Burgos (conductor)
6.41am
Bella, Jan Levoslav (1843-1936): Fate and the Ideal
Slovak Radio Symphony Orchestra Bratislava
Oliver Dohnanyi (conductor).
Last on