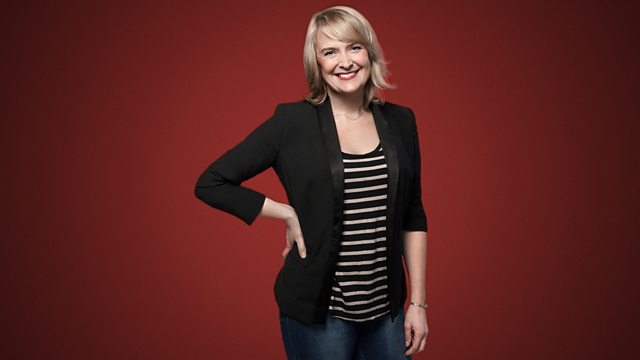 Hatched, Matched and Dispatched
Iain considers some of the great music composed for christenings, weddings and funerals. He is joined by the Rev Dr Giles Fraser, Vicar of St Mary's Church, Putney, a columnist for The Guardian and a regular contributor to Radio 4's Today programme. Featuring music by Wagner, Mahler, Rameau and Scarlatti.
Handel: Messiah (For unto us a son is born)
Arnold Schoenberg Choir/ Concentus Musicus Wien /
Nikolaus Harnoncourt
Deutsche Harmonia Mundi 82876640702 T11 d4.50
Finzi: On parent knees
Roderick Williams / Iain Burnside
Naxos 8.557963 T 12 d 1.33
Rameau: La Naissance d'Osiris (Overture)
Capella Savaria / Mary Terey-Smith
Naxos 8.553388 T.1 d6.08
Stravinsky: Greeting Prelude
(For 80th Birthday of Pierre Monteaux)
London Symphony Orchestra / Michael Tilson Thomas
RCA 09026 688652 T.8 d 0'49
Sibelius: Symphony no 5 (finale)
Berlin Philharmonic / James Levine
DG 445 865 2 T.8 d 8'38
Wagner: Lohengrin Act III Scene 1 'Wedding March'
Saxon State Orchestra and Choir/ Daniel Barenboim
Teldec 3984214842
cd3 t2 d4.11
Lizst: La Lugubre gondole
Stephen Hough (pno)
Virgin Classics724356143920 T.6 4'37
Purcell: Funeral Music for Queen Mary
March/Canzona/Drum recessional/Thou knowest Lord the secret of our hearts
Academy of Ancient Music/ Choir of Kings College Cambridge/ Stephen Cleobury (conducting)
EMI 344 438 2 T.25/26/27/ 31 d 9.01
Stanford: Nunc Dimittis in B flat
David Hill (Conductor), Stephen Farr (Organ)
Winchester Cathedral Choir
Hyperion - CDA66964 T.2 d 3'34
Vierne: Organ Symphony No. 1 in D minor, op. 14/Final
Jeremy Filsell (Organ)
Signum, SIGCD063 CD 1 T6 d6.32
W Henry Monk: Abide with me/ tune Eventide
Roger Judd (assistant organist), The Choir of St George's Chapel, Windsor Castle/Tim Byram-Wigfield NAXOS 8.557578
T.14 d 3'44
Mendelssohn: Hebrides Overture
BBC Symphony Orchestra/ Sir Colin Davis
Philips 4269782 T.8 d 10'40
Suk: Jaro ('Spring') op.22a
Neil Immelman (pno)
Meridian CDE84269 T.1 d4.38
Handel: Eternal Source of Light Divine
James Bowman (countertenor)/ Crispian Steele Perkins, trumpet
Choir of New College Oxford / the King's Consort/ Robert King (directing)
Hyperion CDA66315 T.1/2 d6.03
Finzi: Dies Natalis
John Mark Ainsley (tenor), Corydon Singers and Orchestra, Matthew Best (conductor)
Hyperion CDA66876 T.1-5 d24.22.
Last on