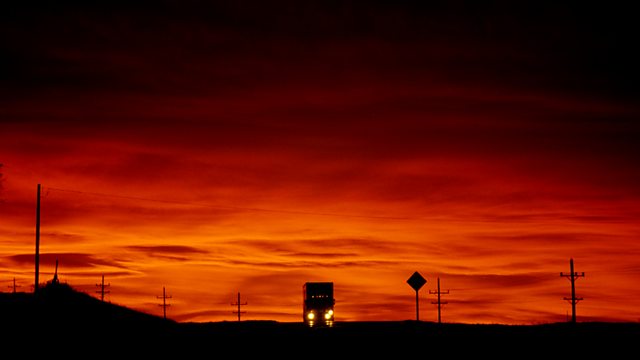 01/02/2009
With Jonathan Swain.
1.00am
Rossini, Gioachino (1792-1868): Overture (Il barbiere di Siviglia)
1.09am
Edwards, Ross (b.1943): Concerto for clarinet and orchestra
1.33am
Rossini: Introduction, theme and variations for clarinet and orchestra
1.46am
Meale, Richard (b.1932): Cantilena Pacifica
1.54am
Schumann, Robert (1810-1856): Symphony No 4 in D minor, Op 120
David Thomas (clarinet)
Tasmanian Symphony Orchestra
Nicholas Martin (conductor)
2.26am
Fischer, Johann Caspar Ferdinand (c.1656-1746): Suite No 4 in D minor, Op 1, No 4 (Le journal du printemps)
The Tasmanian Symphony Chamber Players
Geoffrey Lancaster (conductor)
2.37am
Brahms, Johannes (1833-1897): Sonata No 2 in A for violin and piano, Op 100
Dene Olding (violin)
Max Olding (piano)
3.00am
Tchaikovsky, Pyotr Il'yich (1840-1893): Valse-scherzo No 2 in A; Tendres reproches, Op 72, No 3; Valse a cinq temps, Op 72, No 14
Niklas Sivelov (piano)
3.07am
Tchaikovsky: Serenade in C for string orchestra, Op 48
Danish Radio Concert Orchestra
Hannu Koivula (conductor)
3.39am
Bizet, Georges (1838-1875): Parle-moi de ma mere (Carmen)
Micaela ...... Lyne Fortin (soprano)
Don Jose ...... Richard Margison (tenor)
Orchestre Symphonique de Quebec
Simon Streatfield (conductor)
3.49am
Delibes, Leo (1836-1891): Sylvia - suite from the ballet
Symphony Orchestra of Slovak Radio Bratislava
Oliver Dohnanyi (conductor)
4.07am
Taneyev, Aleksandar (1928-1996): Pizzicato
Kaufman, Nikolai (b.1925): Melodies from the Shoppe Region
Tekeliev, Aleksandar (b.1942): Motor-Car Race
Bulgarian Radio Children's Choir
Hristo Nedyalkov (conductor)
4.19am
Kuula, Toivo (1883-1918): Virta Venhetta vie (River's gentle flow carry the boat), Op 37, No 1
Eero Heinonen (piano)
4.23am
Mendelssohn, Felix (1809-1847): Venetian Boat Song, Op 30, No 6
Jane Coop (piano)
4.26am
Tartini, Giuseppe (1692-1770): Sonata No 6 (Senti lo mare)
Elizabeth Wallfisch (baroque violin)
4.33am
Anonymous: Greensleeves, to a Ground with Divisions
Elizabeth Wallfisch (baroque violin)
Roseanne Hunt (cello)
Linda Kent (harpsichord)
4.39am
Byrd, William (c.1540-1623): Variations on O Mistress mine, I must
Colin Tilney (harpsichord)
4.45am
Wilbye, John (1574-1638): Draw on sweet night
BBC Singers
Bo Holten (director)
4.50am
Vaughan Williams, Ralph (1872-1958): The Wasps - Aristophanic suite
BBC Philharmonic
Yan Pascal Tortelier (conductor)
5.00am
Escosa, John B (1928-1991): Three Dances for two harps
Julia Shaw, Nora Bumanis (harps)
5.07am
Maurice, Paule (1910-1967): Tableaux de Provence
Julia Nolan (saxophone)
CBC Vancouver Orchestra
Mario Bernardi (conductor)
5.22am
Domenico da Piacenza (c.1400-c.1476): La fia Guilmin
Philippe Gelinas (hurdy gurdy)
5.24am
Huggett, Andrew (b.1955): Canadian folk-song suite for accordion and piano
Joseph Petric (accordion)
Guy Few (piano)
5.39am
Frescobaldi, Girolami (1583-1643): Canzona Prima; Canzona Seconda; Aria - arr. Kraus for trumpet, trombone and accordion
Heinz della Torre (trumpet)
Stefan Schlegel (trombone)
Paolo D'Angelo (accordion)
5.45am
Bruhns, Nicolaus (1665-1697): Ich liege und schlaffe
Greta de Reyghere (soprano)
James Bowman (countertenor)
Guy de Mey (tenor)
Max van Egmond (bass)
Ricercar Consort
5.58am
Bach, Carl Philipp Emanuel (1714-1788): Concerto in E flat for harpsichord, fortepiano and orchestra, Wq 47
Michel Eberth (harpsichord)
Wolfgang Brunner (fortepiano)
Slovenicum Chamber Orchestra
Uros Lajovic (conductor)
6.17am
Telemann, Georg Philipp (1681-1767): Concerto in D minor for two chalumeaux and strings
Eric Hoeprich, Lisa Klewitt (chalumeaux)
Musica Antiqua Koln
Reinhard Goebel (director)
6.29am
Mozart, Wolfgang Amadeus (1756-1791): Sonata in B flat for bassoon and cello, K292
Peter Hanzel (bassoon)
Juraj Alexander (cello)
6.41am
Weber, Carl Maria von (1786-1826): Concerto in F for bassoon and orchestra, Op 75
Juhani Tapaninen (bassoon)
Finnish Radio Symphony Orchestra
Jukka-Pekka Saraste (conductor).
Last on