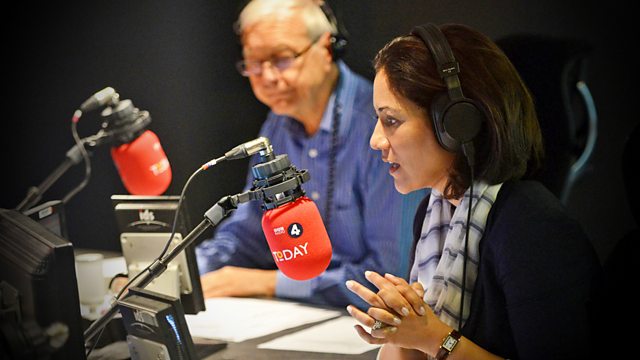 26/01/2009
Presented by John Humphrys and James Naughtie.
John Fassenfelt of the Magistrates' Association discusses the reclassification of cannabis.
Chris Gunness of the UN Relief and Works Agency for Palestinian Refugees describes the suffering in Gaza.
Jonah Fisher reports on how one woman has grown so frustrated with the lack of action on the humanitarian crisis in Zimbabwe that she has taken matters into her own hands.
Suren Surendiran, of the British Tamils Forum, says that Tamils will continue to fight in Sri Lanka.
Robert Peston discusses how Corus will cut 3500 jobs worldwide, including more than 2500 in the UK. MP Denis MacShane explains what the impact will be.
Wyre Davis reports on the proposed tidal barrage at the Severn estuary.
Thought for the day with the Canon David Winter.
Hugh Colver, a consultant involved in lobbying, and the Labour peer Baroness Kennedy discuss the world of lobbying.
Mark Thompson, director general of the BBC, explains the decision not to broadcast an appeal for aid to Gaza by the Disasters Emergency Committee.
Andrew Gimson of the Daily Telegraph and John Purcell of executive headhunters Purcell & Company discuss who might become head of the Metropolitan Police.
Steelmaker Corus is cutting 2,500 British jobs. Chris Buckler speaks to workers at their plant in Teesside.
MP Alan Campbell says cannabis has been reclassified to protect the public.
Dr Derek Yach and Dr Geoff Rayner discuss if unhealthy food can be better regulated.
A farmer tells how he sabotaged Wales' GM-free status by secretly planting GM maize.
Former head of the Charities' Commission, Geraldine Peacock, and Daniel Hannan of the Daily Telegraph discuss the BBC's decision not to broadcast the DEC charity appeal for aid to Gaza.
Last on