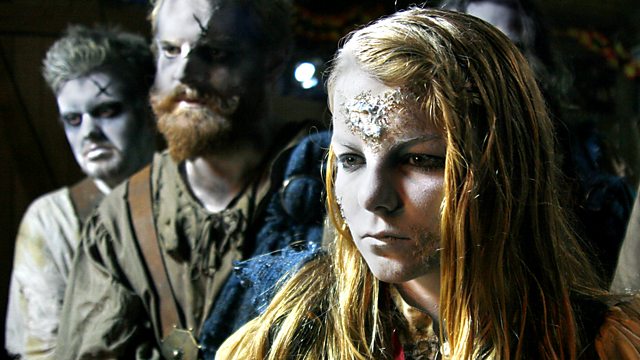 Robbo and Tai compete to win the attentions of a girl and fall out, while Abi tries to turn Megan into a 'mini me' in order to wind up Victoria. A gorgeous girl turns up at the cafe and Robbo and Tai make a bet to see who can catch her eye. It's only a bit of fun. Best friends like these guys could never fall out, right?
Even though Tai is making a big effort to get Shona's attention, it seems like she can't take her eyes off Robbo. And it's not long before the two amigos have a massive row. Shame it's over a sea ghost! When Shona gets all scary stalker on Robbo, he begins to wish he'd never fallen out with Tai. It turns out that you really need your friends, especially when you are dealing with a Scottish sea ghost with a grudge and a whole clan of her Highland mates!
Abi is horrified when Victoria invites Megan over for dinner. Megan is going to need a major makeover if she wants to hang out with Princess Abi. Chloe advises Megan to be herself. But is it time for Chloe to take her own advice?
Last on
Credits
| Role | Contributor |
| --- | --- |
| Megan | Holly Bodimeade |
| Robbo | Pax Baldwin |
| Tai | Nua Finau |
| Abi | Lara Custance |
| Chloe | Amelia Reynolds |
| Peter | John Wraight |
| Victoria | Miranda Harcourt |
| Ragnar Ironsides | Mick Rose |
| Cora | Mabelle Dennison |
| Shona | Georgia Fabish |
| Producer | Dave Gibson |
| Producer | Rachel Davis |
| Director | Danny Mulheron |
| Writer | Paul Gerstenberger |