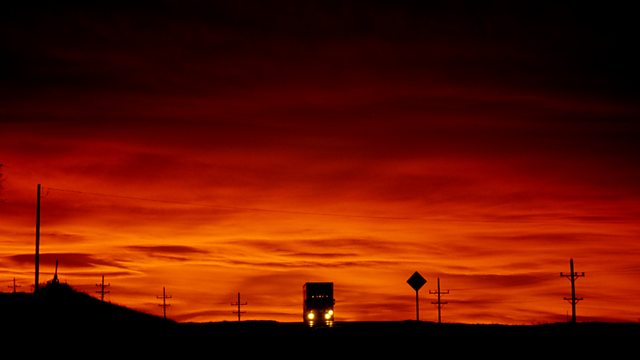 26/01/2009
With Susan Sharpe.
1.00am
Williams, Grace (1906-1977): Fantasia on Welsh nursery tunes
1.12am
Metcalf, John (b.1946): Mapping Wales for harp and ensemble
1.29am
Bowden, Mark (b.1979): Tirlun for orchestra
Catrin Finch (harp)
Ulster Orchestra
David Hill (conductor)
1.39am
Stanford, Charles Villiers (1852-1924): Stabat Mater, Op 96
Giselle Allen (soprano)
Jane Irwin (mezzo-soprano)
Allan Clayton (tenor)
Robert Macdonald (bass)
Charles Wood Singers
Ulster Orchestra
David Hill (conductor)
2.25am
Byrd, William (c.1543-1623): The Bells for keyboard; The Earl of Salisbury - gaillard
Colin Tilney (harpsichord)
2.35am
Carlton, Richard (c.1558-c.1638): Madrigal: Calm was the air
Weelkes, Thomas (1576-1623): Madrigal: As Vesta was from Latmos Hill descending
The King's Singers
2.42am
Handel, Georg Frideric (1685-1759): Concerto grosso in A, Op 6, No 11
Barbara Jane Gilby (violin)
Tasmanian Symphony Chamber Players
3.00am
Brumby, Colin (b.1933): Festival Overture on Australian themes
West Australian Symphony Orchestra
Richard Mills (conductor)
3.11am
Koehne, Graeme (b.1956): To His servant, Bach, God grants a final glimpse: The Morning Star
Guitar Trek
3.15am
Trad, arr. Takemitsu, Toru (1930-1996): Sakura (Cherry Blossoms); Sayonara (Goodbye)
BBC Singers
Stephen Cleobury (conductor)
3.22am
Natra, Sergiu (b.1924): Sonatina for harp
Rita Costanzi (harp)
3.30am
Anonymous Medieval Armenian: Miayn Soorp (You are the Only Holy One)
Bartev, Sahag (4th-5th century Armenian): Oorakh Ler Soorp Yegeghetsi (Hymn for the feast of the Church)
Isabel Bayrakdarian (soprano)
Chamber Orchestra
Raffi Armenian (conductor)
3.34am
Sowande, Fela (1905-1987): African suite for harp and strings
CBC Vancouver Orchestra
Mario Bernardi (conductor)
4.00am
Villa-Lobos, Heitor (1887-1959): Kyrie and Gloria (Missa Sao Sebastiao)
Danish National Girls' Choir
Michael Bojesen (conductor)
4.12am
Fernandes, Gasper (c.1570-1629): Tleycantimo choquiliya - mestizo e indio
Pascual, Tomas (early 17th century): Oy es dia de placer - Villancico
Franco, Hernando (1532-1585): Santa Maria in il Huiac
Villancico
Peter Pontvik (conductor)
4.18am
Piazzolla, Astor (1921-1992): Adios nonino
Musica Camerata Montreal
4.28am
Joplin, Scott (1868-1917): Maple Leaf Rag; Gladiolus Rag
Donna Coleman (piano)
4.35am
Barber, Samuel (1910-1981): Concerto for violin and orchestra, Op 14
James Ehnes (violin)
Vancouver Symphony Orchestra
Bramwell Tovey (conductor)
5.00am
Verdi, Giuseppe (1813-1901): Overture (Nabucco)
Netherlands Radio Symphony Orchestra
Antoni Ros-Marba (conductor)
5.09am
Smit, Leo (1900-1943): Concertino for cello and orchestra
Pieter Wispelwey (cello)
Netherlands Radio Chamber Orchestra
Ed Spanjaard (conductor)
5.20am
Escher, Rudolf (1912-1980): Ciel, air et vents for chorus
Netherlands Chamber Choir
Ed Spanjaard (conductor)
5.32am
Gombert, Nicolas (c.1495-c.1560): Agnus Dei (Missa tempore paschali)
Huelgas Ensemble
Paul Van Nevel (conductor)
5.39am
Gorczycki, Grzegorz Gerwazy (c.1665-1734): Illuxit sol
Olga Pasiecznik, Marta Bobertska (soprano)
Piotr Lykowski (countertenor)
Wojciech Parchem (tenor)
Miroslaw Borzynski (bass)
Concerto Polacco
Marek Toporowski (chamber organ/director)
5.45am
Wanski, Jan (c.1762-c.1830): Symphony in G on themes from the opera Kmiotek (The Peasant)
Polish Radio Symphony Orchestra
Andrzej Mysinski (conductor)
6.02am
Moniuszko, Stanislaw (1819-1872): Naia's Song
Urszula Kryger (mezzo-soprano)
Katarzyna Jankowska-Borzykowska (piano)
6.08am
Borodin, Alexander (1833-1887): Polovtsian dances (Prince Igor)
Sydney Symphony Orchestra
Stuart Challender (conductor)
6.19am
Glazunov, Alexander Konstantinovich (1865-1936): Concert waltz No 1 in D for orchestra, Op 47
CBC Vancouver Symphony Orchestra
Kazuyoshi Akiyama (conductor)
6.28am
Shostakovich, Dmitry (1906-1975): Sonata in D minor for cello and piano, Op 40
Li-Wei (cello)
Gretel Dowdeswell (piano).
Last on