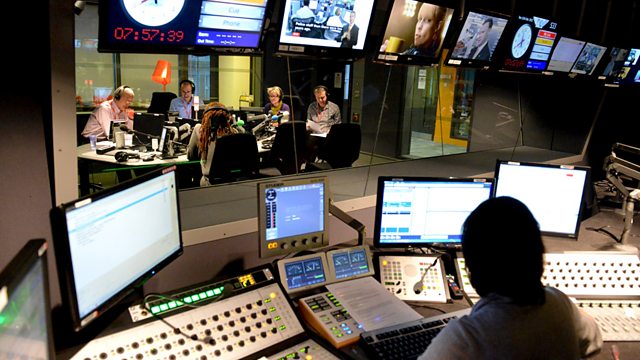 19/01/2009
Presented by John Humphrys and Edward Stourton.
Robert Peston reports on the losses announced by the RBS.
Justin Webb considers whether an approval rating for Barack Obama of over 70% means that he will inevitably disappoint some people.
Chairman of the Equality and Human Rights Commission Trevor Phillips discusses if 'institutional racism' is still a problem.
Robert Peston interviews the head of RBS Stephen Hester to discuss a possible increase in the government stake of the bank.
Shadow chancellor George Osborne discusses Kenneth Clarke's return to the front bench as shadow business secretary and debates whether proposals to help the economy will work.
Tom Burkard discusses the difficulty in marking answers written as essays.
Artist and children's presenter Tony Hart has died, aged 83. Peter Lord, co-founder of Aardman Animations, remembers him.
Thought for the day with religious commentator Clifford Longley.
Christian Fraser and John Ging, of UN relief agency Unrwa, discuss the ceasefire in Gaza and the cost of the conflict.
Chancellor Alistair Darling says government plans will help to increase lending.
Hugh Pym discovers the story of Battle of Britain hero Sir Keith Park.
Nick Robinson discusses if the return of Ken Clarke shows a change in thinking from David Cameron.
Phil Harding and Dorothy Byrne discuss the importance of keeping global events in the news.
Former US ambassador to London Philip Lader and former UK ambassador to the US Sir David Manning discuss the new US administration.
John Wilson reports from Tehran on a cultural exchange between Iran and the UK.
George Magnus and Sir Howard Davies discuss if government measures will see the banking industry return to some sort of normality.
Last on
Paddington creator Michael Bond talks to Today