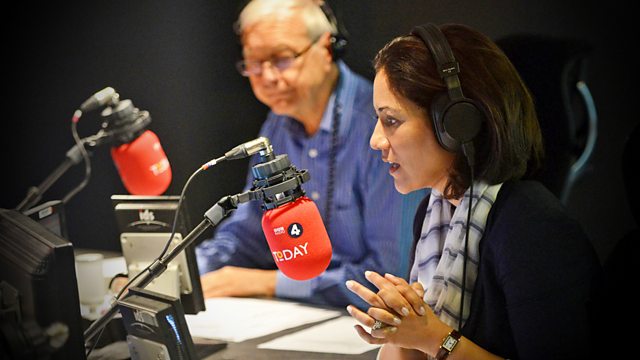 20/01/2009
Presented by John Humphrys and James Naughtie.
Caroline Wyatt explains Sir Richard Dannatt's criticism of the hardship faced by British soldiers.
Jim Naughtie reports from Washington on the difficulties Barack Obama will face in rebuilding the US's ailing infrastructure.
Bob Crow, general secretary of the RMT union, discusses his fears over the future of the transport network.
Christian Fraser reports from Gaza on the devastation caused by the Israeli offensive.
Defence Secretary John Hutton debates whether the war in Afghanistan is worth the hardships faced by soldiers there.
Jim Naughtie examines the history of US inaugural speeches.
Thought for the day with Dr Indarjit Singh.
Sir Peter Burt, former deputy chairman of HBOS, debates whether full nationalisation is the solution to the falling value of RBS.
Jim Naughtie reports from Washington as thousands of people make their way to the capital to witness Barack Obama's historic inauguration as US president.
Robert Peston reports on the financial markets.
Sir Alan Budd, a former chief economic advisor at the Treasury, gives his insight into the work going on behind the scenes at the Treasury to try and shore up the financial institutions.
James Rodgers analyses the gas dispute between Russia and Ukraine.
Times columnist Ben Macintyre and novelist Justin Cartwright debate the historical accuracy of the film Valkyrie.
Biologist Sean B Carroll talks to science correspondent Tom Feilden about the evolution revolution.
Former England international Graeme Le Saux explains that footballers do not only care about money.
Ben Bradlee, former editor of The Washington Post, says nobody knows how Barack Obama is going to respond to the challenges of the presidency.
Last on