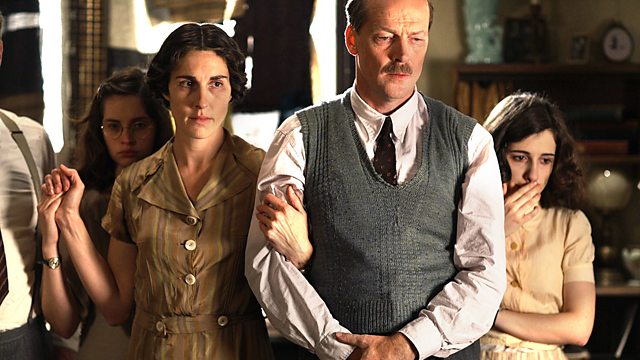 Anne and her family are woken up by the sound of intruders downstairs. They creep out to the landing where they are met by Mr Dussel and the Van Daans, and they all huddle together on the stairs. When the noises seem to stop, Otto and Peter go downstairs to see what damage has been done and to lock the front door so as not to attract the police, but they discover that the burglars are still there and have to flee back to the annex before they are discovered. The families now hide together in the Frank's bedroom. Mrs Van Daan is desperate to go to the toilet but they can't risk her being heard moving, so she is forced to use a wastebasket in front of everyone.
The next morning Mr Kugler informs them that the burglars took a lot of valuables and that they must be more careful, but the families don't think they were to blame for the break-in. The tension and the summer heat start to get to them and they snap at each other. Anne tries to talk to Peter about her frustrations over anti-Semitism but he isn't interested and she realises they don't have much in common.
Food shortages are getting worse, Mrs Van Daan is annoying everyone with her endless chatter, and the authorities have confiscated their beloved radio. As the bombing raids get worse, Anne takes to running up and down the annex stairs to block out the sound. But they try to keep their spirits up and are thrilled when Miep finds some butter to bake a small cake for Edith's birthday.
Last on
Credits
| Role | Contributor |
| --- | --- |
| Anne Frank | Ellie Kendrick |
| Otto Frank | Iain Glen |
| Edith Frank | Tamsin Greig |
| Margot Frank | Felicity Jones |
| Hermann van Daan | Ron Cook |
| Petronella van Daan | Lesley Sharp |
| Albert Dussel | Nicholas Farrell |
| Mr Kugler | Tim Dantay |
| Miep | Kate Ashfield |
| Bep | Mariah Gale |
| SS Silberbauer | Robert Morgan |
| Producer | Elinor Day |
| Director | Jon Jones |
| Writer | Deborah Moggach |