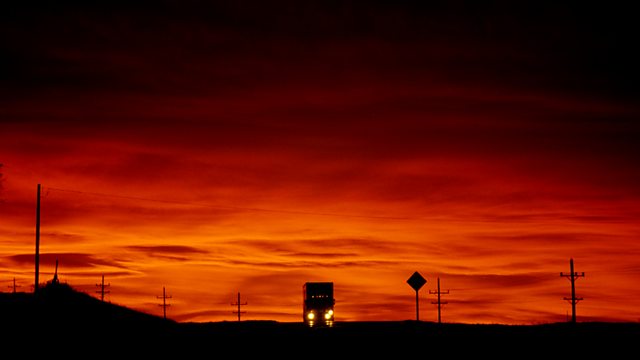 19/01/2009
With Susan Sharpe.
1.00am
Leclair, Jean-Marie (1697-1764): Sonata in A flat for violin and continuo, Op 5, No 1
1.13am
Boismortier, Joseph Bodin de (1689-1755): Trio in A minor (V sonates en trio, Op 37)
1.19am
Leclair: Sonata in B flat, Op 5, No 4
1.36am
Corelli, Arcangelo (1653-1713): Violin Sonata in E minor, Op 5, No 8
1.46am
Vivaldi, Antonio (1678-1741): Cello Sonata No 7 in G minor, RV 42
1.58am
Veracini, Francesco Maria (1690-1768): Violin Sonata in D minor, Op 2, No 12
2.14am
Veracini: Scozzese (Violin Sonata in E minor, Op 2, No 8)
John Holloway (violin)
Jap ter Linden (cello)
Lars Ulrik Mortensen (harpsichord)
2.20am
Mendelssohn, Felix (1809-1847): Symphony No 3 in A minor, Op 56 (Scottish)
Stavanger Symphony Orchestra
Vytautas Lukocius (conductor)
3.00am
Casanova, Gion Balzer (b.1938): Evening on the Lake
Cantus Firmus Surselva
3.02am
Moos, Nuot von: When night falls
Mustair Church Choir
3.05am
Simeon, Gion-Duno (b.1945): Clear night
Chor da Concert Grischun
3.07am
Schoenberg, Arnold (1874-1951): Verklarte Nacht, Op 4
Borromeo String Quartet
3.36am
Lassus, Orlande de (1532-1594): La nuit froide et sombre; Quand mon mari vient; Toutes les nuits
The King's Singers
3.41am
Gabrieli, Giovanni (c.1553-1612): Canzon Primi Toni a 8; Canzon II Septimi Toni a 8 (Sacrae Symphoniae, 1597); Canzon Prima a 5 (1608)
Douglas Haas (organ)
Canadian Brass
3.51am
Geminiani, Francesco (1687-1762): Concerto grosso in G minor (after Corelli)
Academy of Ancient Music
Andrew Manze (director/violin)
3.59am
Enescu, George (1881-1955): Piano Sonata No 3 in D, Op 24
Dinu Lipatti (piano)
4.20am
Lipatti, Dinu (1917-1950): Satraii - suite for orchestra, Op 2
Romanian National Radio Orchestra
Horia Andreescu (conductor)
4.45am
Gade, Jacob (1879-1963): Jalousie - tango tzigane
The Young Danish String Quartet
4.49am
Hollander, Friedrich (1896-1976): Ich bin von Kopf bis Fuss - from the film Der blaue Engel (Falling in love again)
Jean Stilwell (mezzo-soprano)
Robert Kortgaard (piano)
Marie Berard (violin)
Joseph Macerollo (accordion)
Peter Tiefenbach (conductor)
4.54am
Liszt, Franz (1811-1886): Grande Etude de Paganini No 2 in E flat, S141
Matti Raekallio (piano)
5.00am
Sabbatini, Galeazzo (1597-1662): Congregavit Dominus aquas
Angharad Gruffydd Jones (soprano)
Concordia, Mark Levy (conductor)
5.05am
Tomkins, Thomas (1572-1641): Toy: made at Poole Court
Bull, John (c.1562-1628): In nomine
Gibbons, Orlando (1583-1625): Fantasia X in A minor
Margreet Prinsen (organ)
5.13am
Locke, Matthew (c.1630-1677): Fantazie; Suite in A minor
Pedro Memelsdorff (recorder)
Andreas Staier (harpsichord)
5.28am
Tallis, Thomas (c.1505-1585): Suscipe, quaeso Domine for 7 voices
BBC Singers
Stephen Cleobury (conductor)
5.37am
Vaughan Williams, Ralph (1872-1958): Fantasia on a theme by Thomas Tallis
BBC Philharmonic
Yan Pascal Tortelier (conductor)
5.51am
Norman, Ludvig (1831-1885): Contrasts for piano, Op 61 (Nos 1-4)
Bengt-Ake Lundin (piano)
6.00am
Strauss, Richard (1864-1949): Horn Concerto No 2 in E flat
Markus Maskuniitty (horn)
Finnish Radio Symphony Orchestra
Junichi Hirokami (conductor)
6.21am
Gounod, Charles (1818-1893) arr. Liszt: Valse de l'Opera Faust
Petras Geniusas (piano)
6.31am
Gounod: Mab, reine des mensonges; L'amour! L'amour...Ah! leve-toi, soleil (Romeo et Juliette)
Richard Margison (tenor)
Mercutio ...... Brett Polegato (baritone)
Canadian Opera Company Orchestra
Richard Bradshaw (conductor)
6.38am
Tchaikovsky, Piotr Il'yich (1840-1893): Romeo and Juliet - fantasy overture
Oslo Philharmonic Orchestra
Nello Santi (conductor).
Last on