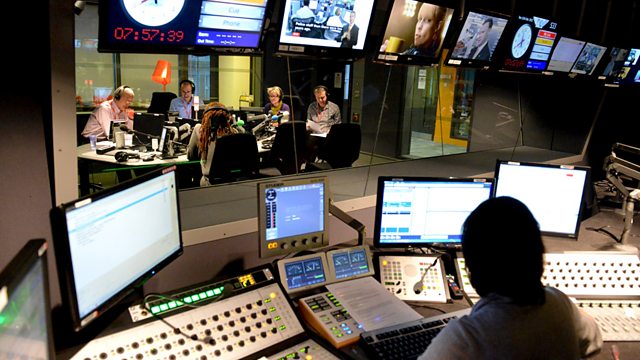 12/01/2009
Presented by James Naughtie and Evan Davis.
Ferran Tarradellas, spokesman for EU Energy Commissioner Andris Piebalgs, discusses how the dispute with Russia over gas supply could be settled.
Frank Gardner analyses the death of Somali pirates who hijacked a Saudi oil tanker.
Barnardo's chief executive Martin Narey and former health secretary Alan Milburn, who will head a new commission on social mobility, discuss what the government can do to improve children's chances in life.
Dr Anwar Sheikhalin, Director of Naser Hospital in Gaza explains the dangers posed to children in the ICU.
Keith Vaz MP and former Foreign Office minister Rod Richards discuss Prince Harry's use of the word Paki.
Rajesh Mirchandani reports on the Golden Globe awards.
Thought for the day with Clifford Longley.
Mark Regev, a spokesman for the Israeli Government, explains Israel's goals.
Work and Pensions Secretary James Purnell explains how the government intends to get the unemployed back to work.
Dr Saul David and Nick Fraser debate what happens when history and entertainment meet.
James Coomarasamy visits Detroit to speak to those who were there when Motown began.
Sir Jeremy Greenstock discusses what can be gained from talking directly with Hamas.
Nick Robinson examines the arguments in the politics of the recession.
Jenny Hill reports on 'very serious failings' in children's services in Haringey, Surrey and Doncaster.
Peter Bowes reports from the Golden Globe awards.
Adrian Wilkes of the Environmental Industries Commission and Geoffrey Wood, professor of economics, debate whether 'green collar jobs' offer a solution to the current economic crisis.
Last on