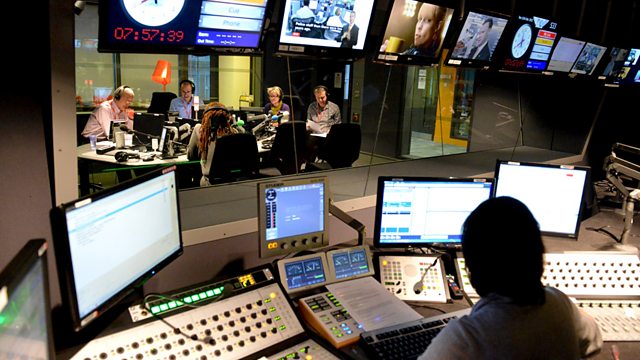 16/01/2009
Presented by John Humphrys and Sarah Montague.
Housing minister Margaret Beckett discusses a government scheme aimed at helping homeowners facing repossession.
David Gleave, of Aviation Safety Investigations, says how he thinks the airliner crash in New York, in which all on board survived, was caused.
Vice-President of the EC Guenter Verheugen wants member states to work on a rescue plan for industry.
Karen Allen investigates calls from East Africa for Barack Obama to break with current US policy.
Robert Peston talks to Roger Carr, Chairman of Cadbury's, about the rewards given to company executives despite falls in performance.
Sarah Mukherjee discovers if catchers are making money out of molehills.
Thought for the day with writer Rhidian Brook.
June Kelly reports on the UK residents claiming compensation from Libya after suffering from IRA terrorism.
Rex Baintain says a lack of consumers is harming his business. Buyout expert Jon Moulton discusses whether the government should subsidise the manufacturing industry.
Robert Peston discusses the takeover of Merrill Lynch by the Bank of America.
Nicola Stanbridge considers the legacy of the London Astoria.
Shadow Secretary of State for Energy and Climate Change Greg Clarke discusses the billion pounds the Tories would invest in improving power distribution.
Michael Portillo and Antony Beevor discuss revisiting a nation's history.
Israeli spokesman Mark Regev says that 'Hamas is going to have a real problem with public opinion'. Palestinian PM Dr Salam Fayyad says that talks for a ceasefire must happen without rocket fire taking place.
Maurice Frankel, director of the Campaign for the Freedom on Information, discusses how much information MPs should disclose about spending.
Last on