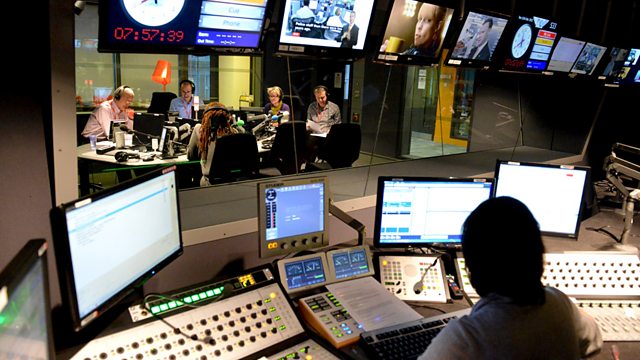 15/01/2009
Presented by John Humphrys and Sarah Montague.
Chief exec of HMV Simon Fox says the company had their 'biggest ever Christmas' despite the recession.
Chief economist at ECU Group Neil Mackinnon discusses the difficulty in setting interest rates for 16 countries.
Israeli spokesman Mark Regev says Hamas is being blamed for orchestrating the Gaza crisis.
Shadow Transport Secretary Theresa Villiers and Baroness Valentine, of business group London First, discuss if the third runway at Heathrow should go ahead.
Dale Vince, founder of wind farm operator Ecotricity, says UFOs have not been ruled out of an inquiry into a damaged wind turbine.
Health minister Lord Darzi says there should be 19 checks on a patient before a surgical incision is made.
Thought for the day with the Rev Angela Tilby.
Former policy holder Anne Berry and pensions advisor Ros Altmann discuss government plans to compensate savers who lost money in Equitable Life.
Richard Lambert of the CBI and economist Ben Broadbent discuss how to stop unemployment rising.
Baroness Vadera has been criticised as 'living in a parallel universe' after she claimed to be seeing a few 'green shoots' of recovery in the economy. Nick Robinson looks at her career.
Rebecca Jones and Mark Kermode discuss the nominations for the BAFTA Film Awards.
Author Deborah Moggach discusses the difficulties she faced in caring for her mother during her dementia.
Peter Sutherland, former chief of the WTO, discusses a campaign for the euro to be adopted.
Mike Thomson discusses developments in Eastern Congo.
Journalist Matthew Parris discusses memorable gaffes made by politicians.
Beijing correspondent James Reynolds and author Mark Leonard discuss China's ability to survive as economic growth slows.
Last on